Wrapping Presents? Start With Your Home!
25 November 2010 8:19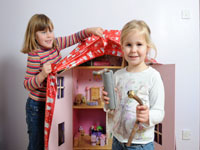 The season of gift buying and present wrapping is upon us once again. However, with all the excitement involved in Christmas planning, it is easy to forget about wrapping your most prized possession – your home!
Last year was recorded as the coldest winter in over 30 years and over 26,000 properties experienced an interruption to their water supply due to frozen pipes. So this year, when wrapping other presents, make sure you start with your home.
Charlie Gallagher, Head of Water Supply at NI Water recalls the havoc frozen pipes caused last year:
"When temperatures drop sharply, water in pipes can freeze, expand and eventually burst the pipe. When the temperature rises again and the ice in the pipe thaws, water leaks from the pipes. Last year, NI Water received over 62,000 calls from customers, located and repaired over 580 burst watermains, carried out repairs on 270 service pipes, which connect the public to the main water supply, and isolated a further 350 leaking private supplies.
The effects of dealing with the aftermath of a burst pipe in a home or business can be devastating. Water can cause serious damage to furniture and carpets and often treasured possessions have to be thrown away. If the burst occurs in a business, it can lead to days, if not weeks of lost income.
It doesn't take long to check the pipes in and around your property. NI Water is encouraging our customers to watch our video on Youtube or visit our website and take the time to ensure their pipes are protected. By doing this, it could save future heartache and cost."
NI Water's top tips for avoiding frozen pipes include:
1. insulate water tanks and pipes in unheated areas like lofts, roof spaces, garages and outbuildings;
2. Fix dripping taps – a gentle trickle of water can freeze and completely block the pipe;
3. Keep your boiler well serviced to ensure your house is heated;
4. If you are away from home during the winter period, open the trap door into the roof space to allow some of the warm air to circulate in the roof space;
5. If you are away from home you could leave a key with a neighbour, friend or family member who can check the house regularly for frozen pipes and to ensure there is adequate heat;
6. Know where your stop valve is in the case of an emergency - it is normally situated under the kitchen sink;
7. DO NOT run your tap to avoid a frozen pipe, a running tap can waste up to 3,000 gallons of water per day;
8. Write down the name and contact details of a SNIPEF (Scotland & Northern Ireland Plumbing Employers Federation) registered plumber in case a pipe does burst.
NI Water's 'Winter Warmer' video can be viewed on our Youtube channel http://www.youtube.com/northernirelandwater
You can also download a handy leaflet from www.niwater.com/winterfreeze.asp