Protect Your Property by Protecting Your Pipes
26 November 2010 8:58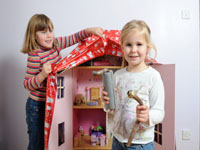 The Met Office is warning the coming weekend will see the start of a prolonged cold snap. NI Water is therefore urging farmers to consider the impact of this cold weather and protect their property by lagging water pipes and checking for leaks.
Last year was recorded as the coldest winter in over 30 years and over 26,000 properties, including many farms, experienced an interruption to their water supply or faced the costly impact of a burst pipe.
Brian McCalmont, Head of Leakage, NI Water, comments:
"Over 60% of NI Water's non domestic customers are classified as 'farms', so it is an important consumer group for us. Farms can also be among our most vulnerable group if they loose their water supply.
The effects of dealing with the aftermath of a burst pipe on a farm cannot be underestimated. Water is the single most important requirement for livestock. On a dairy farm, livestock drinking water accounts for between 50% and 75% of the farm's water usage. It is therefore vital farmers have a clean constant supply of water.
There are a number of ways farmers can protect their property, the priority being to check their meters on a regular basis. A higher reading may indicate a leak which should be located and repaired quickly as possible. Ideally, a number of stop valves should be installed on the land, enabling the farmer to isolate water supply to disused areas of the farm during the winter months. Detecting and repairing leaks will also help reduce water bills, which are a major factor for a working farm.
Farmers should also inspect remote troughs which may not be used at this time of year, particularly the pipe leading into the trough which may be exposed. The same applies to any pipe work that is exposed on the land, this needs to be buried 750 millimetres below ground.
Time and effort in preparing your property could save future heartache and cost."
NI Water's 'Winter Warmer' video can be viewed on our Youtube channel http://www.youtube.com/northernirelandwater
You can also download a handy leaflet from www.niwater.com/winterfreeze.asp
NI Water's top tips for avoiding frozen pipes include:
1. In advance of the cold weather ensure that you have good understanding of the pipework within your property/land ( remember, it can go over several acres of land);
2. Know where your stop valves are located and, where possible, install additional stop valves to isolate sections of pipework;
3. Isolate supplies that are not required over the winter period
4. Ensure that pipes are properly protected. For example, where possible, lag pipes in outhouses and be aware of pipework that is above ground.
5. Check cattle troughs especially the float valves. Check and fix any existing problems in advance of the cold weather;
6. Know where your meter is and check it regularly. A dramatic increase in water usage could be a sign you have a leak on your property. You are responsible for the water supply on your land, so it is important to isolate and repair leaks as soon as possible. Repairing leaks will also help reduce water bills.
7. Fix dripping taps – a gentle trickle of water can freeze and completely block
the pipe;
8. Please DO NOT run your tap to avoid a frozen pipe as running tap can waste up to 3,000 gallons of water per day;
9. Write down the name and contact details of a SNIPEF (Scotland & Northern
Ireland Plumbing Employers Federation) registered plumber in case a pipe does burst.