Theft of manhole lids poses serious risk to the community
09 February 2011 14:12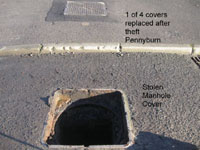 NI Water is appealing to the public and local representatives to help prevent further theft of manhole lids from the Pennyburn / Campsie areas of Londonderry. To date, over 8 manholes lids have been stolen.
These manhole lids are a vital way of keeping the public safe and protecting our assets. Stealing these manholes may result in someone falling into the manhole and seriously injuring themselves. Furthermore, a car or cyclist could drive over the open hole.
NI Water's customer manager for the area, Brian Donaghy, explains:
"While those involved may not fully realise the consequence of their actions, NI Water would like to stress that there are serious risks involved with the removal of these lids."
"They were stolen from a poorly lit area where pedestrians would not be in a position to see a hole in the road. Falling into a manhole late at night and possibly being seriously injured without any way of calling for assistance would be incredibly frightening; you wouldn't want it to happen to any of your family or friends."
"There is also the potential for fly tipping and dumping of hazardous materials to occur. Manhole lids are also there to protect our assets from inappropriate items finding their way into the sewers. These can cause blockages in the system and cause out of sewer flooding."
"We would appeal to those involved to think about their behaviour and stop immediately."
"The cost of replacing them is also a factor as it creates a needless drain on resources that could be better used to improve services to the local community."
NI Water needs the help and support of the whole community to protect these vital resources and is calling on those engaging in these acts to cease immediately.
To report an incident at any NI Water site, please phone Waterline on 08457 440088.