Pedal power earns NI Water's Bushmills construction team £4,000 for charity
07 March 2011 10:31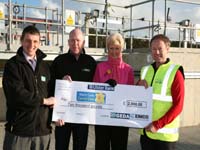 Staff from NI Water's Engineering Procurement division and their project team - which have recently completed construction work on a new state-of-the-art wastewater treatment works in Bushmills - have collected a whopping £4,000 for charity after completing a 40-mile cycle ride last year.
The money raised has been donated locally to Marie Curie Cancer Care and to WaterAid, the international charity which uses practical solutions to provide clean water, safe sanitation and hygiene education to the world's poorest people.
This is the second fundraising event that the NI Water Bushmills project team has undertaken during the 18-months they've been working at the Whitepark Road site. In October 2009, contractors Geda Construction, supported by NI Water, organised 'Think Pink' events which raised almost £3,000 for the Ulster Cancer Foundation.