Put the Spring back in Your Step at Silent Valley
14 March 2011 12:58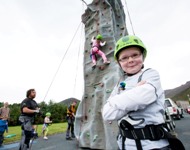 If you're looking to put the 'Spring' back in your step and embrace the season of rebirth, renewal and regrowth, then look no further than the Silent Valley Mountain Park on Sunday 27th March.
NI Water is encouraging the public to step into Spring and join in with their Spring themed event, with activities such as archery, clay pigeon shooting, treasure hunts, face painting and a teddy bears picnic, you will be mad to miss it!
NI Water's organiser of the event and Education Manager, Jane Jackson, tells us of the fun to be had:
"The scale of activities we have organised for this event will ensure that there is something to suit everyone. You can participate in arts and crafts with the Jumping Clay workshop and Doodle Bugs or climb the rolling rock climbing tower. For animal lovers, we have the Ark Farm petting corner.
"We are also holding a fancy dress parade at 2pm and in the spirit of Easter, Teddy Bears Picnic for the under 6's at 3pm, an egg rolling competition at 4pm as well as having stalls selling jewellery, pottery, books and delicious edible goodies. All this whilst enjoying some live music.
"A similar event was held in August 2010 which was a resounding success, attracting visitors from throughout Northern Ireland. The themed days are an excellent way to promote Silent Valley and boost the reputation of the area as a major tourist attraction. "
Normal admission charges to Silent Valley will apply. All activities are free of charge. For more information please click on the link below or contact Waterline on 08457 440088.