'Step into Spring' event at Silent Valley
29 March 2011 9:23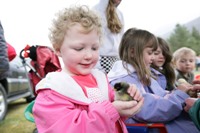 NI Water encouraged people to embrace the season of rebirth and renewal on Sunday 27th March at our 'Step into Spring' event at Silent Valley in what was a highly enjoyable occasion with great music and a wide variety of activities and attractions.
Perfect spring weather and fun activities on offer made the day a great success, with hundreds of families taking advantage of the spectacular surroundings at Silent Valley.
All attractions, from caterers to magic shows, enjoyed bumper crowds, and joined in the fun of the day. The Teddy Bear's Picnic, badge-making and egg painting stands were especially popular, and our many other traders and contributors also enjoyed a highly successful day. The event provided NI Water with a golden opportunity to promote our key messages, particularly 'Water for Health' and 'Bag it and Bin it;' our Customer Care Register was also promoted.
Due to the popularity of the event, queues for parking were longer than anticipated, and NI Water would like to thank visitors who were caught in these for their patience.
NI Water's events at Silent Valley, in the south Down/Mourne area are firmly established, and we encourage people from right across Northern Ireland to grab a picnic and head down to Silent Valley.
Thank you very much to all our exhibitors, traders and visitors - we look forward to seeing you at the next Silent Valley event!
LOST PROPERTY - a set of keys was handed into security staff at Silent Valley during Sunday's events. If you have lost keys, please contact the on-site security team on (028) 4176 2817 in order to arrange collection.