NI Water filters millions into rural wastewater treatment
11 May 2011 9:23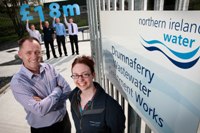 Northern Ireland Water has invested £18m into upgrading rural wastewater treatment systems in the first three years of its Rural Wastewater Investment Programme (RWwIP).
The dedicated rural project, which has been specifically developed by NI Water to upgrade wastewater treatment systems that serve populations of up to 250 people, has so far seen the refurbishment of 65 facilities, delivering environmental improvements and generating economic benefits in rural areas right across Northern Ireland.
From Donagheady (near Strabane) to Drumnaferry (in Magheralin) and from Myroe (outside Limavady) to Mullaghglass (in Newry), NI Water has designed and implemented bespoke state-of-the-art wastewater treatment systems to replace ageing filtration units and septic tanks which over the years have become increasingly ineffective.
Speaking about the scheme, Martin Gillen, NI Water senior project manager, said: "The Rural Wastewater Investment Programme was set up to tackle widespread refurbishment of some of the 900 small wastewater works that span the length and breadth of Northern Ireland. The project is both complex and logistically challenging but the rewards are far-reaching in terms of environmental improvements. Each project represents a significant investment by NI Water to implement the latest technology available to raise the standard of wastewater treatment so that rural communities can benefit from improved air and river water quality."
Commenting on the economic benefits that the RWwIP is generating locally, Mr Gillen continued: "In the three years to date, NI Water has been working with indigenous companies, BSG Civil Engineering (Maghera) and Williams Industrial Services (Mallusk), along with local tradesmen and suppliers to deliver the programme in a cost-effective manner. By utilising in-house skills and developing a standardised design for all sites, the team has been able to make extensive cost savings, allowing upgrades to be carried out at a greater number of sites to bring about even further environmental improvements across rural Northern Ireland. It is this approach to quality and efficiency that earned the construction team an 'Achieving Excellence in Partnering Award' in the 2010 CEF/Specify Construction Excellence Awards.
"The next phase of the Programme is currently out to tender and we look forward to working with the successful contracting team to achieve even greater cost efficiencies on this special rural enhancement scheme," said Mr Gillen.