£3m investment complete for Mid-Antrim Reservoirs
10 June 2011 11:26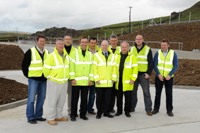 NI Water is pleased to announce the completion of a major programme of works to improve and upgrade four key reservoirs in Co. Antrim - from Ballymena to Ballymoney.
With nearly £3 million being spent on the project, which falls under the Investment Strategy for Northern Ireland, it is yet another example of NI Water's commitment to delivering a modern, efficient infrastructure for the people of Northern Ireland.
Project Manager, Gary Mc Fadden explains:
"The 'Mid-Antrim Reservoirs Project' involved the design and construction of four reinforced concrete service reservoirs at four separate locations. It will allow us to achieve a number of things, namely increasing storage, cutting down on maintenance costs and enhancing the overall quality and security of water supply for our customers."
The contractors for the Mid-Antrim Reservoirs Project were Farrans Construction with Capita Symonds as project managers.