£5 million Wastewater Treatment facility for Creagh/Toome
14 July 2011 11:37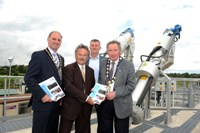 NI Water has officially opened its new multi-million pound wastewater treatment works (WwTW) in Creagh.
The modern new facility, which has been constructed on the site of the old Creagh WwTW, is treating all wastewater from both the Toome and Creagh areas to a high standard – in line with European directives - before being discharged to the Moyola River.
Following the complete rationalisation and upgrade of the entire sewerage network in the wider Toome/Creagh area, the old wastewater treatment works in Toome has been decommissioned meaning that treated effluent (wastewater) is no longer discharged to the River Bann at this point.
Speaking at a brief ceremony to mark the opening of Creagh WwTW, Trevor Haslett, NI Water Interim Chief Executive said: "This state-of-the-art wastewater treatment works forms just one part of a £5 million programme of upgrades carried out by NI Water to deliver an effective and efficient wastewater collection and treatment system for the wider Toome/Creagh area.
"In addition to the new treatment works, five local sewage pumping stations have been completely refurbished and a host of new sewers have been laid to link Toome with the new treatment works at Creagh. This new and refurbished infrastructure is delivering an improved level of service to the people in the locality; the standard of discharge has been enhanced to meet the latest European wastewater directives and industrial and domestic growth in the area will be accommodated by the new system until at least 2025."
The extensive £5 million upgrade project was undertaken by NI Water with local companies Geda Construction (Coalisland) and Ovivo (Newry). Belfast-based McAdam Design and RPS Consulting Engineers also provided technical expertise.
Speaking about the positive economic impact of the project, Mr Haslett said: "Having such a large number of NI-based companies involved in this project has paid dividends for the local economy. Not only has the work delivered business benefits for the main project team, but their wider supply chain - including local tradesmen and suppliers - have also benefited from this contract."
Paying tribute to the local community for the support shown throughout the 15-month contract, Mr Haslett concluded: "Whilst many long-term benefits are to be gained by these type of improvements, NI Water acknowledges that projects of this size and nature can have a short-term impact on the local community. In this regard, and on behalf of the entire project team, I would like to thank most sincerely the residents and business people of Toome and Creagh for their patience and co-operation during all of this essential upgrade and pipelaying work."