Refurbishment of Galbally WwTW complete
10 November 2011 15:11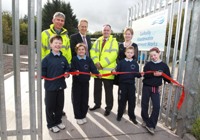 Northern Ireland Water has completed a £900,000 overhaul at Galbally Wastewater Treatment Works (WwTW) in Co Tyrone as part of its multi-million pound Rural Wastewater Investment Programme (RWwIP).
The sewage works, located off the Gortindarragh Road in the County Tyrone village, has been totally refurbished with modern wastewater systems including new fully enclosed hi-tech tanks with advanced treatment processes to raise the quality of treated effluent in line with the latest EU Directives.
Commenting on the background to the scheme and the wider investment being made by NI Water, Martin Gillen, Senior Project Manager for the RWwIP said: "The Rural Wastewater Investment Programme is a dedicated programme of work being carried out by NI Water to upgrade small wastewater facilities spanning the length and breadth of Northern Ireland. Maghera-based BSG Civil Engineering is the contractor for the project working alongside Mallusk-based Williams Industrial Services and McAdam Design in Belfast.
"Over the last three years NI Water, through the RWwIP, has invested £22m in modernising wastewater treatment in rural areas like Galbally to bring about environmental benefits and facilitate localised development to the year 2020."
Helping NI Water to officially open the new works recently were P6 children from nearby St. Joseph's Primary School in Galbally. Welcoming the pupils and their teacher to the new treatment works, Michael McAlary, NI Water Operational Manager for the area said: "NI Water has made these improvements to create a better environment for the local community here in Galbally. We are delighted to have the opportunity to show firsthand to local children how the modern new infrastructure operates and to explain how the complex processes installed are treating all wastewater in the area to the high standards set by the NI Environment Agency to help keep the local waterways clean."
During the visit the children had the opportunity to put questions to the NI Water managers and learnt some of NI Water's key messages about responsible flushing and conserving water. More information on these issues can be found at www.niwater.com/education