£6.5m Investment complete for Coalisland Area
24 November 2011 15:12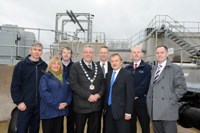 NI Water is pleased to announce the completion of a £6.5 million Wastewater Treatment Works for the Coalisland area.
The original works had been operating since the 1960's and did not have the capacity to meet future demand due to population growth.
The new treatment works will serve a domestic population of approximately 15,000, and will accommodate future growth in the area until 2022. The upgraded plant will also ensure that the area complies with the latest Northern Ireland Environment Agency (NIEA), national and European regulations.
Regional Development Minister Danny Kennedy said:
"I welcome the completion of this environmentally sensitive project, which will play a key role in improving the water quality of the surrounding waterways, including the River Blackwater. The new wastewater treatment works will deliver benefits for local residents and the environment."
The Mayor of Dungannon & South Tyrone Cllr Kenneth Reid added:
"The council also welcomes the completion of this project which will bring significant benefits to wastewater services in the area for customers and will allow for future growth in the area."
Trevor Haslett, Chief Executive of NI Water commented:
"I would like to congratulate all the team involved in this project for the enthusiasm and professionalism they brought to this scheme. The completion of this project is an important step in helping us to move towards a more modern and sustainable sewerage infrastructure to support the growing population in the area. NI Water is currently investing approximately £3 million per week improving water and wastewater services throughout Northern Ireland and Coalisland is one of the many projects being undertaken to deliver a 21st century infrastructure to Northern Ireland."
BSG Civil Engineering was the contractor for the project working alongside McAdam Design and Williams Industrial Services.