Major upgrade for Newcastle Wastewater Treatment Works
20 December 2011 10:23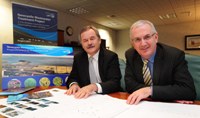 NI Water has unveiled its plans for a £7million upgrade to Newcastle Wastewater Treatment Works during a recent stakeholder presentation and open public information event in Newcastle Leisure Centre.
Programmed to get underway in January 2012, the improvements will see the installation of modern new treatment processes which will benefit the seaside town and meet future EU directives by May 2013.
The 18-month contract has been recently awarded to Saintfield-based civil engineering company, Dawson-Wam and Newry-based water treatment specialists, Ovivo Ireland, with project management support being provided by McAdam Design in Belfast.
Welcoming the project's imminent start, Danny Kennedy, Minister for Regional Development said: "The award of this contract is good news for Northern Ireland on both an economic and environmental level. Not only will the bathing waters at Newcastle benefit from this major NI Water investment, but the local construction industry will also be given a welcome boost with this significant project."
Trevor Haslett, NI Water's Chief Executive added: "This £7million upgrade project represents a strong commitment by NI Water to improve the standard of treated effluent at Newcastle. The extensive programme of work supports the £6m package of infrastructure and network improvements already undertaken in the town and will ensure that the sewerage infrastructure in Newcastle operates in accordance with EU directives and NI Environment Agency treatment standards."
Incorporated in the upgrade plans is a new extension to house a host of new treatment processes and a first-time stormwater storage facility. The existing wastewater treatment works will be fully refurbished and new equipment will be installed at the nearby Blackrock and Harbour Pumping Stations.