World Wetlands Day!
01 February 2012 14:13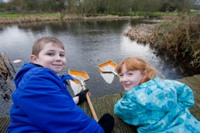 Thursday 2nd February marks World Wetlands Day, however, many people still do not realise what a treasure we have on our own doorstep.
This year's theme is 'Wetlands and Tourism' and NI Water would like to raise awareness of how vital our wetland areas are by encouraging the public to enjoy them while also taking care of them. It is surprising how very simple, everyday activities impact on local rivers, streams and ponds.
Jane Jackson, NI Water's Education Environmental Manager comments,
"There are over 80,000 hectares of wetland in Northern Ireland, many of which are accessible to the public. Craigavon Borough Council's Lough Neagh Discovery Centre, at Oxford Island in Craigavon is an excellent example of how beautiful wetlands should be, with a vast array of wildlife for visitors to enjoy. The Centre provides a great day out with beautiful walks beside the Lough, a playpark and café facilities.
"However, the wetlands at Oxford Island on the banks of Lough Neagh are also vital to NI Water, the local community and the economy in general, with 230 million litres of water being extracted from the Lough to provide thousands of homes and businesses with clean, safe drinking water every day.
"Other Wetland areas are right in the heart of communities, for example Bog Meadows in West Belfast, while others can be found in Glenarm, Moyola, Waterfoot and Lagan Meadows.
Andrew Griggs, Craigavon Borough Council's Education, Events & Activities Officer, at Lough Neagh Discovery Centre, adds:
"Our aim is twofold – to provide a wonderful experience for visitors while maintaining the vital wetlands of Lough Neagh and the surrounding areas. World Wetlands Day is an excellent opportunity to remind us all that we need to take care of and appreciate our wetland areas."