NI Water awarded the Carbon Trust Standard
17 May 2012 16:04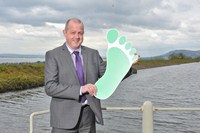 NI Water has recently been awarded the Carbon Trust Standard after taking action on climate change by measuring, managing and reducing its carbon emissions by 8.3% (reduction metric relative to turnover).
The Carbon Trust Standard recognises organisations for relative carbon reductions.
Based on a rigorous, independent assessment, it certifies that organisations have measured, managed and reduced their carbon emissions across their own operations, and are further committed to reducing them year on year.
Charlie Pollock, Energy Manager at NI Water, comments:
"We're delighted to have achieved the Carbon Trust Standard. It is a great way of showing that we are on the front foot when it comes to carbon management best practice, and gives us an opportunity to communicate our environmental credentials.
"Being the biggest user of electricity in Northern Ireland, the company sought to reduce its carbon footprint and left no part of the business unturned. Everything from process optimisation at the largest Wastewater Treatment Works to staff turning off lighting and heating at night went towards reducing our carbon emissions and we would like to thank staff for their continued efforts towards this.
"Going through the assessment process to achieve the Carbon Trust Standard helped us to not only quantify our footprint, but also benchmark our performance and identify areas for further improvement to bring tangible and significant cost savings across our operations."
NI Water views the protection of the environment as a major priority and invests significant resources and measures to safeguard it. NI Water is the only public body in Northern Ireland to have earned International ISO 14001 status, an international standardisation awarded on the basis of a company's environmental management system.