Graduate and Apprenticeship Opportunities with NI Water
22 June 2012 10:37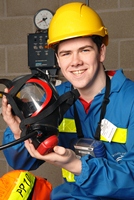 NI Water is responsible for the delivery of all water and sewerage services in Northern Ireland and has announced the creation of 6 Engineering Graduate opportunities and a further 10 Operational Apprenticeship opportunities across the organisation.
Challenging opportunities are available for qualified Civil, Mechanical and Electrical Engineers within Engineering Procurement and Asset Management Directorates. Graduates will benefit from a comprehensive 2 year development opportunity as they work towards Chartered Engineering status providing ample opportunities to apply and develop their technical skills. Graduates will complete a commercially focused placement and deliver engineering solutions in response to detailed projects.
Trevor Haslett Chief Executive commented, "NI Water recognises that our people are our most valuable asset and we need the right mix of experienced colleagues and new graduates and apprentices who will become the Managers and Leaders of the future. The creation of these sixteen new positions, supported by comprehensive training and development programmes, underlines our commitment to maintaining and bolstering a world class workforce."
This will be the launch of the 3rd NI Water Apprenticeship Programme following recruitment of Operational and Mechanical/Electrical Apprentices. Recent apprentices have already been successful in gaining promotion opportunities and look forward to onward career progression.
Completion of the apprenticeship programme will see apprentices attaining NVQ Level 2 in Water Operations. Alongside the qualification they will also gain valuable team- working and decision making skills and join the 1300 strong workforce delivering water and waste water services across Northern Water.
NI Water offers a comprehensive salary, pension, benefits package and career development opportunities for all roles.
NI Water's vision is - To be a valued and trusted provider of one of Northern Ireland's most essential services; an organisation our customers and staff are proud of.