NI Water's 'Cares Challenge' In Ballymena
04 July 2012 15:01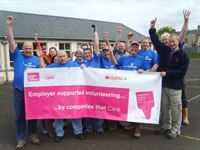 As part of NI Water's 2012 'Cares Challenge', the company recently visited Harryville Primary School in Ballymena.
Volunteers from across the organization moved flowerbeds, general gardening, and painted the outdoor furniture and vegetable boxes.
The Challenge, set up in partnership with Business in the Community's NI Cares Programme, identifies organisations within the local community who need a helping hand with physical tasks such as gardening and painting.
NI Water's new volunteering policy increases the time employees can spend undertaking volunteering activities during working hours to help benefit the greater community.
The activities are planned for various groups throughout Northern Ireland and will be led by a member of NI Water's Executive Committee/Board with up to 14 colleagues joining them from around the business.