Toilet Break in Work Today? Lucky you!
18 November 2016 10:23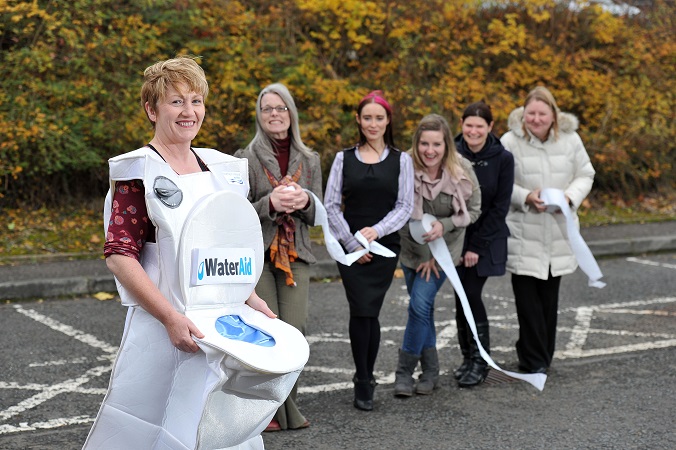 Toilets and Jobs is this year's theme for International World Toilet Day. Celebrated on 19th November, the focus this year is on sanitation, or the lack of it, and how this can impact on livelihoods.
Whilst most of us go to the toilet during working hours and never think twice about the convenience of it, for 2.4 billion people this is not the case. Celine Rodgers, Secretary of Wateraid NI comments: "One in ten people have no choice but to defecate in the open while disease transmission at work, mostly caused by poor sanitation and hygiene practices, causes 17% of all workplace deaths. *
"A lack of toilets at work and at home has sever impacts upon businesses through problems in the workforce, poor health, absenteeism, attrition, reduced concentration, exhaustion, and decreased productivity. *
"Where toilets are present, a big issue for many workers is the way in which toilet breaks are controlled by the management. If access is restricted, people will hold back the urge to go, and even avoid food and drink to minimise how many times they might need to visit the toilet. Beyond the inconvenience and discomfort, this can have health impacts, particularly for women, leading to absenteeism and disease.
"Water and effective sanitation are two things everyone in the world should have access to – can you imagine not having a toilet? It's unthinkable for us, but a fact of life for far too many people in developing countries.
"Together, we can change this, and ensure clean, safe toilet facilities for billions of people."
NI Water is proud to support the work of the international charity WaterAid, which works with some of the world's poorest communities to provide clean, safe drinking water and sanitation facilities. You can get involved too and while you 'spend a penny', why not donate a £1 (or more) to WaterAid to help make the dream of sanitation and hygiene for all a reality.
They can't wait any longer.
To make a donation, please visit www.wateraid.org or telephone 0845 6000 433.
ENDS
For further information, please contact NI Water Press Office on 028 9035 7695 or email
press.office@niwater.com
The attached image shows NI Water staff (l-r) Patricia McKee; Rebecca Allen; Karen Acheson; Sinead Smyth; Karen Lindsay; and Caroline Fletcher doing their bit to raise awareness of the importance of sanitation, particularly for women.
• *International Labour Organisation (ILO 2003)
• * Business for Social Responsibility (BSR 2010)