The Taming of the Screw
24 February 2017 15:06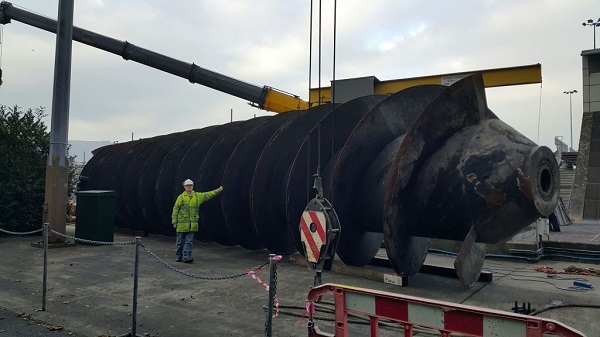 Screw this! All of us have to interact with and deal with screws at some point, but NI Water are willing to bet that, unlike the tiny ones you might use around the house, there's no danger of losing this one!
One of the massive 'Archimedes' screws that help the flagship Belfast Wastewater Treatment Works (WwTW) in the Duncrue area of the city to function has recently been removed for essential refurbishment – this was a much trickier job than simply taking a screwdriver to it; the 18 metre long, 27 tonne screw had to be removed by crane before being transported to Dublin and from there on a roadtrip across Europe to Austria for refurbishment before it returns to Belfast in a few weeks' time.
That's not even the end of this particular screwball adventure – 5 similar screws at the site will also have to be removed and sent off for refurbishment, but they will be removed separately at a later date. The removal of an individual screw has no impact on the effectiveness of the works, and the Belfast facility continues to function as normal.
David McCullough, NI Water's Operations Manager at the Belfast WwTW said: ''People think we're screwing them around when they first hear the sheer scale of this piece of equipment, but at getting on for 30 tonnes in weight, nearly 20 metres high and 3 metres in diameter, this is no ordinary screw! It performs a simple, but critical job in the functioning of the Belfast WwTW facility – the screw's base sits in the foul liquid as the wastewater arrives at the works, and as it turns, the liquid is lifted by the screw fins to where it is discharged into the inlet channel. That doesn't sound like much, but we'd all be screwed without it, as there would be no way of processing and safely cleaning the vast amounts of wastewater handled by the Belfast WwTW every day. Each individual screw can lift up to 3,000 litres of wastewater every single second, which gives some idea of both the power and the scale of this equipment.
''NI Water safely cleans and treats over 330 million litres of wastewater every single day at over 1,000 wastewater treatment facilities across Northern Ireland. The Belfast WwTW is one of our largest, with a design population equivalent of approximately 350,000 people – that's why we can't just screw around with the operation of it.
''The works can function without a single screw, but of the 6 we have at the facility, only one can be removed and repaired at a time; once this one returns from its' Austrian adventure, another one will be sent off, and so on until all of them are good as new and ready to carry on playing their part in delivering what matters for the people of Belfast.
''These 'Archimedes' screw pumps are essential in keeping our wastewater treatment works functioning as they should, but everyone in Northern Ireland can play their own small role in this by keeping their toilets free of household waste like wipes, nappies, cotton buds and personal hygiene items – if you flush these items, there's a strong chance they'll cause havoc in our wastewater systems, blocking sewers, damaging machinery and ultimately causing fully avoidable pollution incidents. Help us keep our screws turning and keep inappropriate items out of the sewers!''
The giant screws are just one part of our massive wastewater infrastructure right across Northern Ireland, with 15,500 km of sewers, approximately 670,000 properties connected to the sewerage network and well over 2,000 wastewater assets.

Ends
All media enquiries to the NI Water Press Office on 028 9035 4757 or via email to
press.office@niwater.com