1 Million Reasons to Appreciate Your Water!
24 March 2017 11:51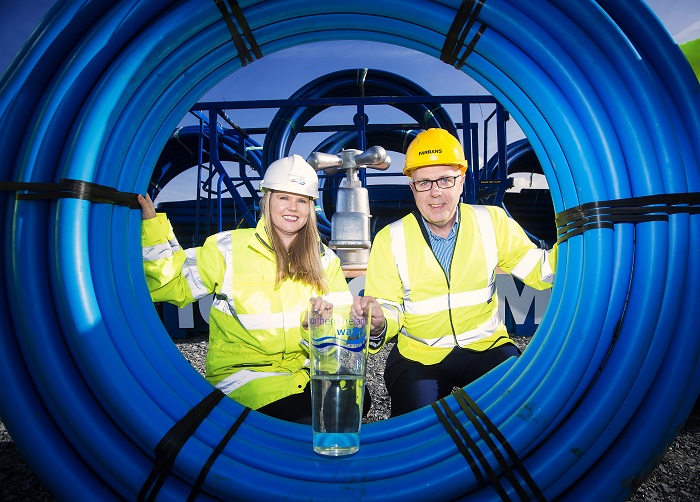 There are now 1 million reasons to appreciate your water as NI Water and Farrans Construction celebrate laying 1 million metres of watermains on the ongoing £100 million Watermains Improvement Programme!
As NI Water approaches a decade of delivery in April 2017, investing £1.8 billion in water and wastewater services over the past ten years, this programme of work delivers what matters for our customers by replacing watermains across Northern Ireland, dramatically improving the quality, reliability and security of the water supply, while also reducing leakage. The project will also assist in supporting a growing economy.
The Farrans team, based at NI Water's Headquarters in Westland House, North Belfast, have been working on this current framework since 2007. As well as installing enough pipe to stretch from Dunmurry to Dusseldorf during this 10 year period, Farrans have also fitted 6,000 valves and hydrants and worked on over 3,500 roads over this phase of the programme. Over 80 staff from Farrans and more than 50 local sub-contractors have been involved in the contract bringing a boost to the local economy.
Sara Venning, NI Water's Chief Executive, said:
"I congratulate the NI Water team and Farrans on reaching this ambitious "one million" watermains milestone. Our customers throughout Northern Ireland will undoubtedly benefit from the improved drinking water quality, reliability and security of their water supply, as well as the environmental benefits, such as reducing leakage.
"It's amazing to think that the "million metres" of pipeline has stretched from quiet country roads in South Armagh and Fermanagh to the thriving hub of the city centre in Belfast.
"This milestone proves that great progress has been made in improving the watermain infrastructure throughout Northern Ireland. I would like to take this opportunity to thank all the teams involved and look forward to seeing continued progress on this scheme for the next 5 year phase of the ongoing infrastructure improvement programme."
Kevin Corley Operations Director at Farrans added:
"Farrans is delighted to have reached this major milestone working with Northern Ireland Water.
"The strong and trusting partnership between Farrans and NI Water teams is something which has been established authentically over the past 10 years.
"This partnership has been key to the success of the framework and, ultimately, to the provision of improved quality, reliability and security of drinking water supply for our customers throughout Northern Ireland."
The scale of the water mains project has required extensive work on local roads. However, where possible, our contractors use state of the art low-dig technology, which means that many of the mains can be laid without the need to open large trenches. NI Water and our partners, Farrans Construction, would like to thank householders, businesses and road users right across Northern Ireland for their continued patience and support. Local communities will enjoy the benefits of this work for many years to come.
Ends
Captions:
V19A4032/ V19A4101 - Kevin Corley Operations Director, Farrans Construction and Sara Venning Chief Executive of NI Water pictured celebrating the "one million metres" milestone of watermains on NI Water's ongoing Watermains Improvement Programme, which will improve the quality, reliability and security of the water supply throughout Northern Ireland. One million metres has been laid by Farrans over the last 7 years, which is enough pipe to stretch from Dunmurry to Dusseldorf!
All media enquiries to the NI Water Press Office 028 9035 4710 or press.office@niwater.com