Procurement Team of the Year!
27 April 2017 14:09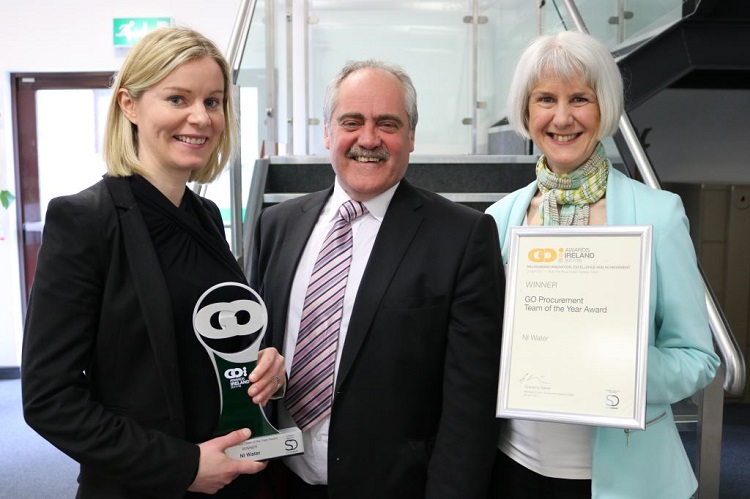 The 'NI Water – Towards Commercial Excellence' project has scooped a top accolade at the recent GO Awards Ireland ceremony at the RDS in Dublin.
Beating off stiff competition from across the island of Ireland, the team claimed the title of 'GO Procurement Team of the Year' for demonstrating first class excellence in procurement and contract management in NI Water.
Jane Mellor, NI Water's Head of Operational Procurement said: "We are honoured to have been chosen as the Procurement Team of the Year 2017. This is an outstanding achievement for all of the team and I would personally like to congratulate everyone involved who has played a vital part in helping to make this a great success story.
"The awards were rigorously judged and it was a great opportunity to spend an afternoon with other leading industry peers to showcase the great work we have delivered. Our work to date includes further enhancing category management by establishing a number of category councils, improving the way we buy goods and services and managing our contracts.
"We are looking forward to continuing our journey to creating a Commercial Excellence ethos that will help to the organisation to create greater value, efficiency and service with every pound we spend and invest."
The Gala Reception saw delegates from Ireland's public procurement community go head to head to win a coveted GO Award. Arriving in Ireland for the very first time, the GO Awards Ireland were open to all public sector bodies, and private and third sector organisations supporting the public sector across both Northern Ireland and the Republic of Ireland.
For further information about the winners, please visit: www.goawards.co.uk/ireland
ENDS
All media enquiries to NI Water press office at press.office@niwater.com or telephone 028 9035 4710.