Sewerage Improvement Scheme Progressing Well at Castle Park
02 May 2017 14:37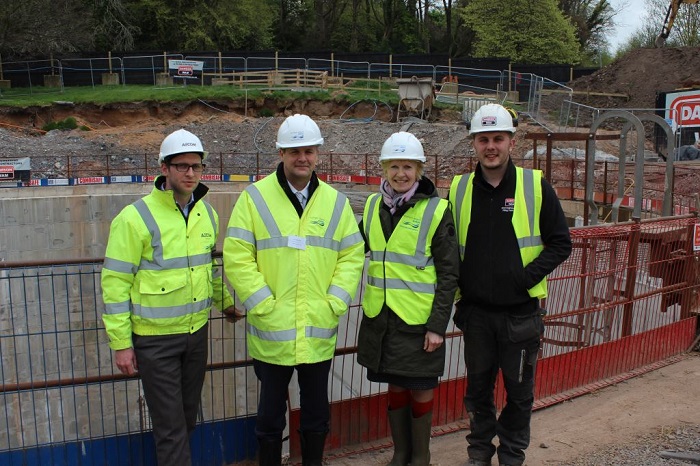 Lady Hermon's last official engagement, before hitting the campaign trail as a parliamentary candidate, was on site at Castle Park Pumping Station to view the progress in this significant construction project. The new pumping station forms part of a major capital works programme in the Bangor area to improve the local sewerage infrastructure and key pumping stations. The overall project represents an investment of approximately £11.5million in the local infrastructure and, when complete, will help improve the water quality in the town.
The current phase of the programme involves the replacement of the existing wastewater pumping station at Castle Park along with the upgrade of sewers in the area.
Grahame Millar, Head of Wastewater Capital Delivery at NI Water, explained that:
"Improving and maintaining our sewerage infrastructure in a fit-for-purpose state is an investment priority for NI Water.
"This major investment will improve the sewerage infrastructure and reduce the risk of out-of-sewer flooding. It will also improve water quality and help facilitate future development, all of which are vitally important to this area. These improvements will deliver benefits for the local community and the tourism industry in Bangor for many years to come."
"As the project is progressing well, we anticipate that this phase of work at Castle Park will be completed by the autumn of this year."
After a tour of the site, Lady Hermon added:
"I was absolutely delighted to visit the Castle Park site to see for myself the tremendous progress, which has already been made within a relatively short time. The project is undoubtedly essential not only to improve and modernise the local sewerage infrastructure, but also to enhance the quality of our coastal waters. As the roof will soon be built over the structure and then the landscaping completed over the roof, I feel really fortunate to have had the chance to see this major feat of engineering before it is lost from sight."
NI Water and its contractor, Dawson WAM, are grateful to the public for their ongoing patience and cooperation, during the completion of this essential improvement work. They are pledged to doing everything they can to keep disruption to a minimum, ensuring that the work is completed as soon as practically possible.
Ends
All media enquiries to NI Water Press Office on 028 9035 4757 or email press.office@niwater.com
Photo caption: (L-R) Samuel Donaldson AECOM, Grahame Millar NI Water, Lady Sylvia Hermon MP, and Ross Williamson from Dawson WAM.