Play Safe, Stay Safe this Summer!
26 July 2017 12:20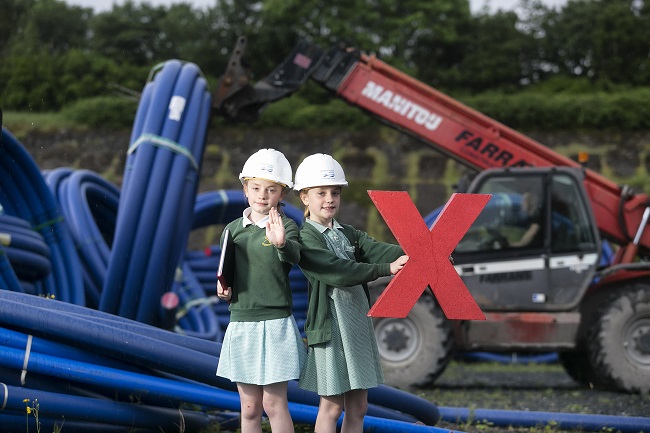 The summer holidays are fast approaching and many children and young people will be spending much of their time outdoors. NI Water, however, wishes to remind everyone, particularly parents and guardians, to be alert to the dangers that are around us. Construction sites, treatment works and reservoirs are fully operational working sites – not playgrounds or swimming pools. Although these sites may seem adventurous and our unused bodies of water look like the best place to relax on a sunny day, NI Water reiterates that these are hazardous and not open to the public to use at their leisure.
Michael Bergin, NI Water's Health and Safety Manager, explains:
"Understandably, a reservoir can look like the perfect place to cool down on a warm day, but while it may look safe, it can be extremely dangerous. You may swim well in a warm indoor pool, but that does not mean that you will be able to swim in extremely cold water.
''Many of our reservoir sites are in remote areas, far away from towns and perhaps difficult to get to, or maybe with poor mobile phone reception. By the time help arrives, it could all be too late.
''The same goes for vandalism of NI Water sites, and I am also urging the local community to be vigilant as NI Water is experiencing a growing problem of people vandalising our sites or damaging fencing around sites to gain access. Vandalised gates and fences can create a major danger for young children or animals who may wander into these sites.
"It is important that people remember that sites are not playgrounds and they can be extremely dangerous for unauthorised personnel without the correct training or equipment. Vandalism can also lead to the delay of important infrastructure projects intended to benefit the entire community, as well as the outlay of money which would be much better spent elsewhere."
NI Water has some simple steps on how to stay safe:
Don't climb on barriers and fences - they are there to protect you from serious injury and accidents.
Stay away from trenches and open manholes - they are dirty, deep and can contain dangerous gases.
Keep clear of equipment - you may see diggers, lorries, pipes and other equipment, but don't be tempted to touch or play with it!
Obey 'Danger' signs - reservoirs and treatment works can be dangerous places, so stay well away.
Reservoirs and other bodies of water are usually deeper than you would expect, are bitterly cold even on the warmest summer day, and the strongest current can cause serious difficulties for the most confident of swimmers.
Michael concludes: "We hope that everyone has a fantastic summer, and hopefully we'll have the warm, sunny weather to match the season. But always resist the temptation to cool off in a reservoir or a quarry; a quick dip really could mean a quick death!''
ENDS
All media enquiries to the NI Water Press Office on 028 9035 4757 or email press.office@niwater.com