A 'Wave' of Winners at NI Water's School Awards Ceremony
21 June 2017 16:21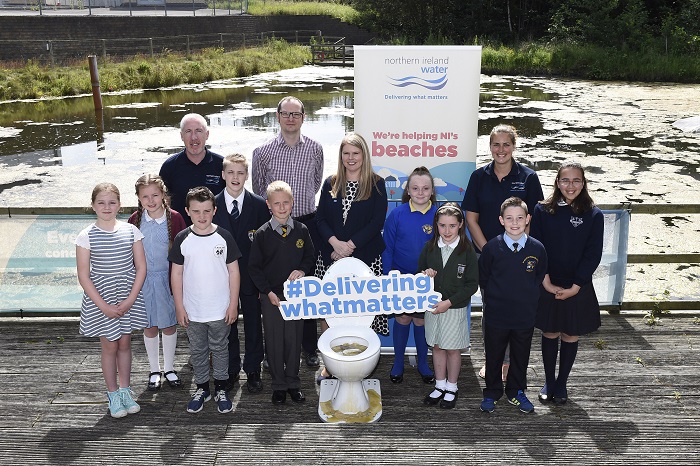 Bag It and Bin It was the important message handed out – alongside prizes – following NI Water's tenth annual schools competition.
This year, there was a fantastic response from Key Stage 2 pupils right across Northern Ireland, who got to work designing promotional posters on the theme 'Oh I do like to be beside the seaside'. This was to raise awareness of the impact of flushing inappropriate items down the toilet and how they can end up on our beaches.
NI Water's Outreach and Learning Officer Anna Killen comments, ''We were delighted with the response rate from schools and very impressed with the standard of artistic work and imagination on offer.
"The water we use in our homes and schools forms part of the water cycle. Once we are finished with it, NI Water treats it and returns it to the lakes, rivers and oceans. NI Water must make sure it is safe for plants, animals and people to reuse it which is why, each day, we treat 330 million litres of wastewater from 663,000 households.
"Primary school children were challenged to design a piece of art to illustrate how rubbish flushed down the toilet can not only cause chaos in the sewerage system, but also end up on our beaches.
"Our judges had a difficult task in selecting the category finalists, as the standard of work was – as always – very high. Thank you to everyone who took part, whether you submitted a poster, provided an idea or encouraged your school to join in."
The awards ceremony took place at the NI Water Wastewater Heritage Centre in Belfast on Tuesday 20 June. Winners received monetary donations for their school along with a certificate and water goody bag.
All media enquiries to NI Water Press Office on 028 9035 7695 or email
Notes to Editors:
Prize Winners were as follows:
Primary Five -
3rd: Aine Stewart, St Marys PS, Bellaghy.
2nd: Sebastian Rozynek, Hart Memorial PS, Portadown.
1st: Lukas Sidlauskas, St Marys PS, Ardglass.
Primary Six –
3rd: Rory McRann, St Colmans PS, Kilkeel.
2nd: Hope Gordon, Killinchy PS.
1st : Natasha McGrath, Andrews Memorial PS, Comber.
Primary Seven –
3rd: Claire Harkin, Rosemount PS L'Derry.
2nd: Erin Bell, Knockloughrim PS.
1st: Laura Kearns, Bunscoil an Iuir, Newry.
Special Needs P5-7 –
1st: Brandon Magee, Rossmar School, Limavady.
Judges' Prize –
Ines Martins, Cloughoge PS, Newry.
The NI Water schools' art competition is open to all primary schools in Northern Ireland in the following category groups; Primary 5, Primary 6 Primary 7 and Special Needs P5-P7. The prizes are monetary donations for schools: first prize £250, second prize £150 and third prize £100 in each category. All winning pupils also receive a goody bag and certificate.