£6 Million Investment Progressing Well at Ballycastle Wastewater Treatment Works
03 July 2017 12:36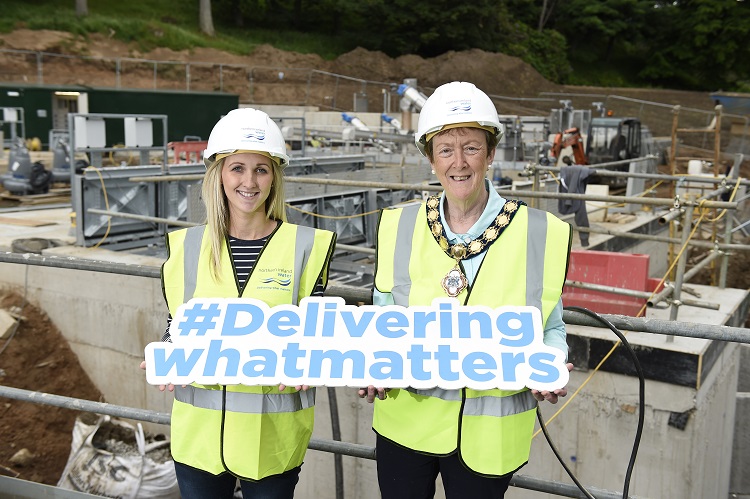 Work is progressing well to construct a new Wastewater Treatment Works at Mary Street, Ballycastle. The town is growing in terms of its population, tourism industry and infrastructure and once complete, this new plant will accommodate increased development and a growth of visitors to the popular tourist town.
Eimear Gourley NI Water Project Manager said:
"Construction work on the new Ballycastle Wastewater Treatment Works is progressing well and the team were delighted to show the Mayor around the site of this important project for the local area.
"The new plant will bring significant benefits for the local population and economy, bringing increased capacity to meet the needs of the growing population and seasonal increases in the town.
"Inevitably there will be some disruption during the construction of the new works. However NI Water have minimised this as much as possible by ensuring no construction traffic is permitted through the town. There will occasionally be increased traffic on Mary Street/Glenshesk Road and Sheskburn Avenue, but we will do everything possible to minimise disruption."
Mayor of Causeway Coast & Glens Council, Councillor Joan Baird added:
"I am delighted to have this opportunity to view the construction progress on behalf of Council, as this is such an important project for the local community.
"Once complete, the new plant will assist the tourism industry and development of Ballycastle town. It will be essential to manage increased capacity in the local sewerage system during key events such as the Lammas Fair and will deliver an improvement in our local water quality within the River Tow and local coastal waters."
Maghera-based BSG Civil Engineering is the main contractor on this project, with RPS providing project management and technical support. The NI Water team is on schedule to complete this essential project by Summer 2018 and would like to thank our customers in the local area for their patience and cooperation while we complete this essential improvement project.
Ends
For further information and media enquiries please contact press.office@niwater.com or call 02890 357695
Photo captions: NI Water Project Manager Eimear Gourley pictured with the Mayor of Causeway Coast & Glens Council, Councillor Joan Baird