NI Water Donates 7,000 Hours to Help 70 Good Causes!
04 October 2017 11:02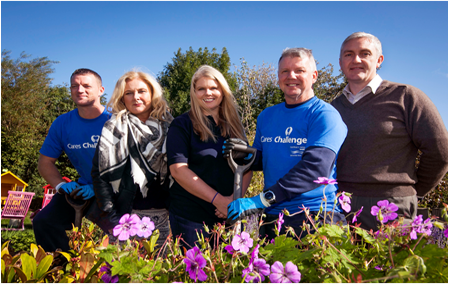 Northern Ireland Water has donated a staggering 7,000 employee hours to help good causes throughout Northern Ireland. Supported by Business in the Community, the organisation has helped over 1,000 employees to volunteer their time through a wide range of monthly volunteering activities during the past five years.
Since 2012, the organisation has mobilised a team of different employees to take part in volunteering challenges each month, from painting residential care homes, to tree planting and conservation work. To date, over 70 charities have benefited including Wave Trauma Centre, Foyle Hospice and Action for Children.
The organisation's most recent challenge took place at Kilcreggan Urban Farm in Carrickfergus. The small urban farm, owned by Kilcreggan Homes, provides valuable opportunities for its service users who have Learning Disabilities/Autism to learn new skills and build their confidence.
Sara Venning, Chief Executive of NI Water, was part of the team helping at Kilcreggan Urban Farm. She explains: "At NI Water, we are committed to helping improve the quality of life in Northern Ireland. These challenges are a fantastic opportunity for members of our team, who may not normally work together, to join forces and give back to their local communities, whilst team building and learning new skills."
In the past five years, Northern Ireland Water has donated the equivalent of 200 weeks' worth of employee time which has provided invaluable support to community organisations that need it most.
"Having the support of organisations like NI Water, ensures we are able to provide critical site maintenance in a minimal time frame that ensures our service users don't face any disruption in the service they receive," explains Kilcreggan Homes Manager, Damian Cassidy. "The farm is a valuable extension of our facility, which helps our service users to develop skills in animal care and horticulture. The training we provide at the farm promotes confidence & self esteem and develops social skills, employability skills and teamwork skills, I'd like to take this opportunity to thank NI Water for their invaluable support over the years."
Business in the Community's Head of Community Programmes, Denise Cranston adds: "Volunteering is a winning formula for employers, employees and the community alike. It's very much a mutually beneficial exchange, helping volunteers to build their confidence and learn new skills, whilst making a huge difference to the charities and community groups they support. It also has a number of other business benefits including increased loyalty, improved reputation and skills development.
"I would encourage any community or voluntary group needing support, or businesses that want to give back in a practical way, to get in touch with our team at Business in the Community and we'll help you get started."
To find out more, visit www.bitcni.org.uk or email hilary.hanberry@bitcni.org.uk or call (028) 9046 0606.
ENDS
About Business in the Community
Business in the Community

stands for responsible business

We have a core membership of 850+ companies throughout the UK, including 75% of the FTSE 100. More than 250 of these companies are members in Northern Ireland and members employ almost 40% of the workforce in Northern Ireland

We work with companies to inspire, engage, support, and challenge them to continually improve their impact on society

The President of Business in the Community is HRH The Prince of Wales and the Chair of the Northern Ireland Board is Roy Adair, Belfast Harbour. Antony Jenkins is the national Chair of Business in the Community

Join us on facebook – Business in the Community Northern Ireland or on Twitter - @bitcni
About Kilcreggan Homes
Kilcreggan Homes provide a range quality housing and day opportunities at the garden centre and urban farm on its site at Elizabeth Ave to adults with learning disabilities

Kilcreggan Homes in Carrickfergus began in the 1980's and first opened its doors to tenants in 1991 for supported living in Northern Ireland

We work closely with other agencies including Oaklee Housing Association, our Landlords and the local Social Services department in providing supported living in Northern Ireland for tenants
About NI Water
Northern Ireland Water is a Government Owned Company, set up in April 2007 to provide the water and sewerage services in Northern Ireland

We supply 560 million litres of clean water a day for almost 1.8 million people as well as treating 320 million litres of wastewater a day