NI Water gets a helping hand from Gracehill & Galgorm Community Playgroup
15 March 2018 16:53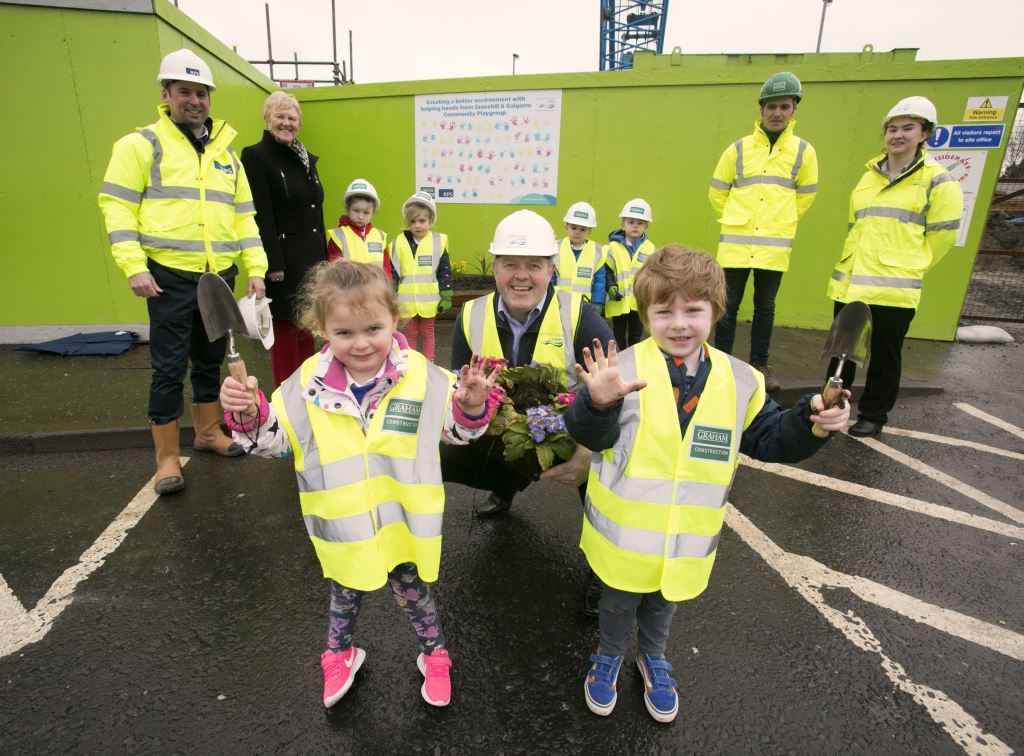 Following a visit from NI Water, GRAHAM Construction and engineering consultants RPS to the Gracehill & Galgorm Community playgroup, the team were delighted to welcome children from the playgroup and Councillor Audrey Wales MBE to their wastewater pumping station site in the village, as work on the £1.2m upgrade progresses.
The children gave a helping hand to plant out two large containers - made by NI Water's contractor GRAHAM Construction – to enhance the exterior of the site.
The planting exercise follows NI Water's recent visit, when the children learned all about the importance of water and site safety and prepared handprints to adorn the hoarding of the construction site.
Peter Ferguson, NI Water project manager for the Galgorm Wastewater Pumping Station upgrade said: "We are delighted to have had the opportunity to visit Gracehill & Galgorm Community Playgroup recently to highlight the importance of water and looking after the environment to local children. These are our future generations who will benefit from investments such as this million pound upgrade at Galgorm Wastewater Pumping Station, and it's great to have their handprints on display at the site."
"We are grateful to the playgroup for their involvement in the planting and to Councillor Audrey Wales MBE for representing Mid and East Antrim Borough Council here today. I would like to thank the local community for their patience and cooperation throughout the construction period."
The Galgorm Wastewater Pumping Station upgrade, which will help reduce the risk of out-of-sewer flooding in the area, is due for completion around the beginning of June.
Bloomin' lovely!:
Pictured in the front row are: Emily and Oskar from the local Galgorm playgroup with NI Water's Peter Ferguson
Back row – (L-R) Brian Malone RPS, Councillor Audrey Wales MBE, children from Galgorm playgroup, Richard Carolan GRAHAM Construction and Catherine Watkins from NI Water.