Double the Chance for NI Water at Business in the Community Awards!
18 May 2018 15:46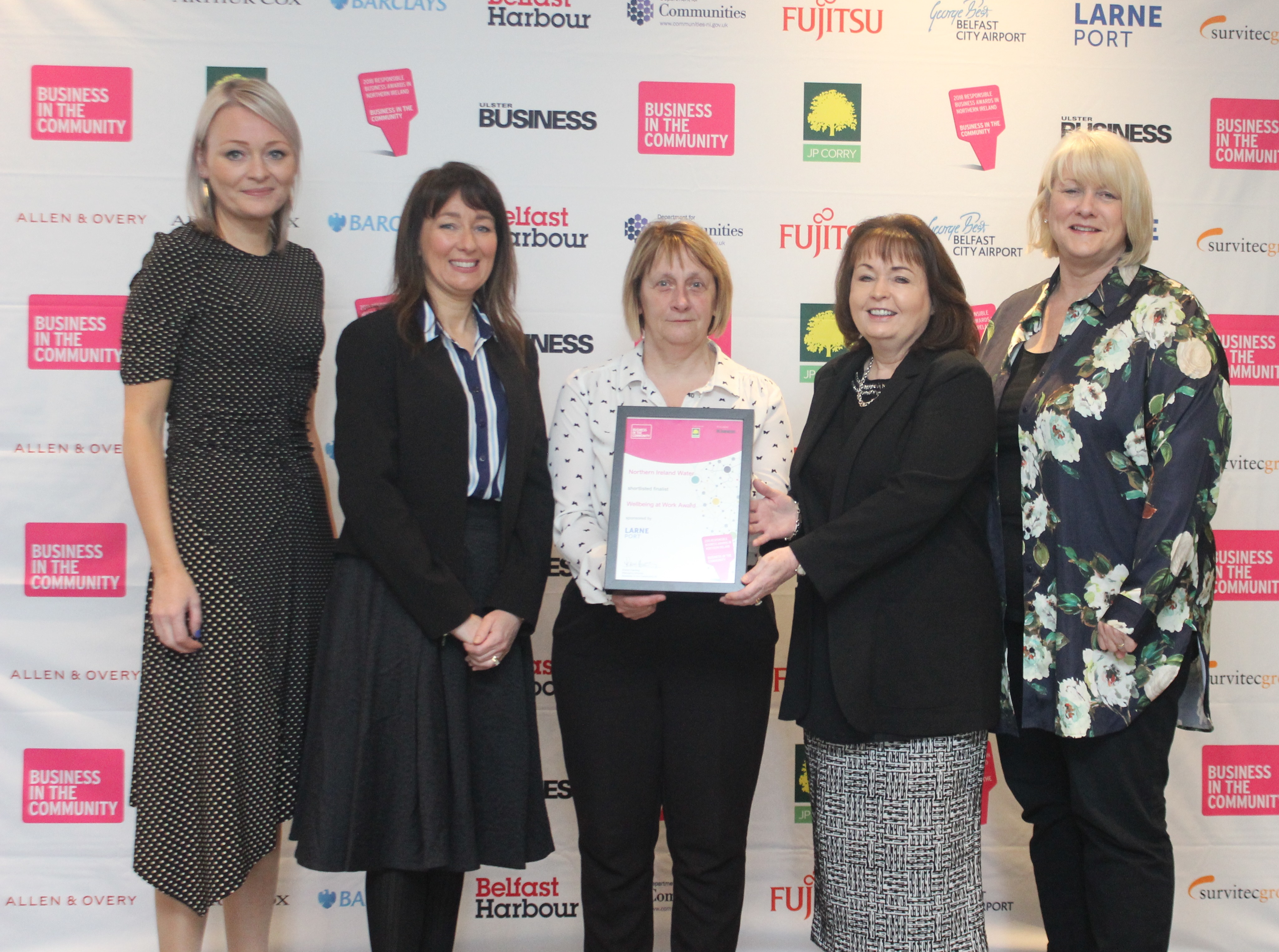 NI Water has been shortlisted for two prestigious Business in the Community Awards. The company has made the final in the categories of the 'Environmental Leadership Award' and the 'Wellbeing at Work Award'. The annual awards seek to recognise and celebrate firms in Northern Ireland that are making a difference by taking practical action to address pressing social and environmental issues.
Rose Kelly, NI Water's newly appointed Director of People and Learning, commented:
"We are absolutely thrilled that two of our projects have been shortlisted for the top awards in their category.
"The Environmental Leadership Award', sponsored by Arthur Cox, is recognition that NI Water has demonstrated significant commitment and contribution to environmental sustainability in Northern Ireland. The 'Wellbeing at Work Award', sponsored by Larne Port, is in recognition of excellence in inspiring and supporting our employees to prioritise their health and wellbeing and embrace positive lifestyle choices.
"Having recently joined NI Water, I have the benefit of an outside perspective, and I am incredibly impressed at the variety of innovative, creative projects that are ongoing throughout the organisation. It is an exciting time to be part of NI Water, helping to implement its vision of delivering a world class service to its customers, its people and for the environment. Being shortlisted for these awards is affirmation we are on the right path to becoming industry leaders while maintaining our commitment to our staff and the environment in which we operate."
This year's award categories are:
NI Responsible Company of the Year, sponsored by George Best Belfast City Airport
Building Stronger Communities Award, sponsored by the Department for Communities
Digital Champion Award, sponsored by Fujitsu
Diversity and Inclusion Award, sponsored by Barclays
Education Award, sponsored by Allen & Overy
Employability Champion Award, sponsored by Belfast Harbour
Environmental Leadership Award, sponsored by Arthur Cox
Marketplace Leadership Award
One-to-Watch Award, sponsored by Survitec
Wellbeing at Work Award, sponsored by Larne Port
Business in the Community NI's Managing Director, Kieran Harding, said: "We are delighted that so many companies have entered this year, demonstrating their commitment to the responsible business movement, and showcasing the practical ways in which their organisations are taking action to be a force for good in society.
"The Responsible Business Awards recognise those organisations that are truly having an impact on their people, the planet and the places where they operate. Judging this year coincided with Responsible Business Week (#RBweek), so it has been a real opportunity for all those involved to amplify their good business activities and stories.
"Once again, the calibre of entries was exceptionally high, and I'm sure all of our judges found the shortlisting process a challenge. I would like to take this opportunity to wish all finalists the very best of luck and we look forward to welcoming everyone to the gala awards dinner at Belfast Waterfront Hall on Thursday 24 May where the winners will be announced."
For more information visit www.bitcni.org.uk or call (028) 9046 0606.
Caption: Pictured (l-r): Laura Lynch, Queen's University Belfast; Alison Sweeney, NI Water; Sally Bonnes, Larne Port; Rose Kelly, NI Water and Janet Calvert, Public Health Agency