NI Water urges everyone to Refill and top up from the tap!
27 September 2018 10:30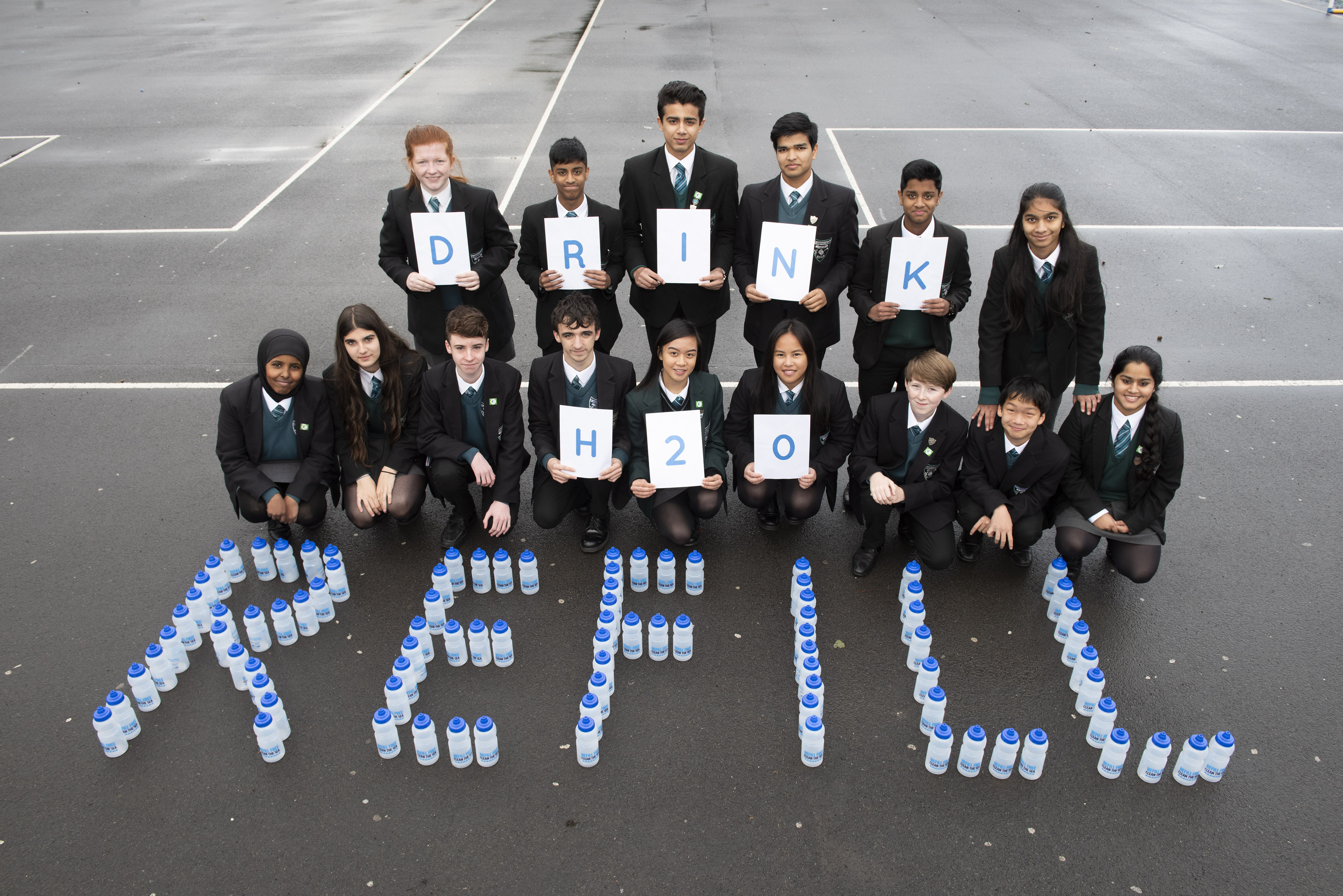 NI Water is urging the public to switch to reusable water bottles as concerns about plastic pollution increase. As part of a national day of action across the UK on Thursday 27th September, everyone is being asked to ditch single use plastic water bottles and switch to a reusable one that can be refilled from the tap!
The first ever National Refill Day comes as it's revealed that an overwhelming majority of the public are concerned about plastic pollution.
Angela Halpenny, Northern Ireland Water Head of Environmental Regulation says,
"The water industry has a strong focus on the environment and we are committed to tackling the problems caused by plastic bottles which block up our rivers and drains, and pollute our seas. On National Refill Day, by switching to a reusable bottle, people can help turn the tide in helping to reduce plastic waste. Our drinking water is 99% pure and we want everyone to benefit from it."
NI Water regularly give out reusable water bottles to schools, community groups and festivals urging people to refill, straight from the tap. If everyone refills a reusable bottle from the tap, it means there's one less bottle of plastic potentially ending up in our seas.
Figures from a Marine Litter report (2017) conducted by Keep Northern Ireland Beautiful revealed that 82% of litter collected on Northern Ireland's beaches was plastic. Plastic is one of the few materials which never degrades completely in the natural environment; instead it breaks down into smaller pieces over a very long period of time.
In the UK, 7.7 billion plastic water bottles are used each year, with the average person now using 150 plastic water bottles every year – that's more than 3 a week. Many are discarded, and end up polluting our rivers and seas. Staggeringly if just 1 in 10 refilled just once a week, we would save around 340 million plastic bottles a year.
NI Water is committed to reducing plastic waste and is embracing the global movement to reduce plastic ending up in our oceans. Our recyclable bottles have recently been rebranded with the message Refill Free, Clean the Sea. Reuse me and top up from the tap! The bottles are given to the public at key tourist events, festivals, schools, community groups and local golf clubs to reinforce the refill message.
In addition, NI Water is undergoing a series of meetings with local councils to discuss partnership opportunities to further promote refill, to reduce plastic waste from single use water bottles and to identify other collaborative ways of working together on recycling. Furthermore, NI Water is currently working to investigate strategic approaches that can be used to maintain awareness of 'Refill free, top up from the tap'.
Single-use plastic bottles are expensive to produce, use up valuable natural resources to make and transport, and create mountains of waste once they've been used and discarded. So far, recycling does not appear to be adequately dealing with the problem, as it's estimated that only around half of the 38.5 million plastic bottles used in the UK every day are recycled, with around 16 million ending up in landfill, being burnt, or entering the environment and waterways.
NI Water, Refill and Water UK are urging the public to get involved with National Refill Day by carrying their reusable bottle, refilling on the go and sharing their involvement on social media using #NationalRefillDay #RefillRevolution #RefillFreeCleanTheSea #NIWater #TopUpFromTheTap #DrinkH20
ENDS
Photo Caption: St Joseph's College Eco-Committee support Refill and NI Water's commitment to reducing plastic waste
Notes to Editors
The weight of plastic saved by removing one billion plastic bottles is equal to 12,700 metric tonnes, or just under 13 million kilograms. That's the equivalent of around 50 eurotunnel trains, or more than 2,100 African bush elephants.
A half-litre bottle of still water typically costs from around 30p in supermarkets to anything up to £2 in motorway service stations, compared to a twelfth of a penny for the equivalent volume of tap water.
NI Water staff regularly volunteer on beach cleans with Business in the Community, Keep Northern Ireland Beautiful and the Marine Conservation Society, collecting plastic from our shorelines and reinforcing the message about reducing plastic and the damage it does to the environment.
The NI Water Bus which visits schoolchildren in Key Stage 2 and 3 is also delivering the Refill message through talks and discussion. NI Water Environmental Champions engage with Community Groups to promote wastewater campaigns.
NI Water works closely with Department of Agriculture, Environment and Rural Affairs to deliver the Marine Litter strategy for NI, which includes measures to deliver capital investment to improve wastewater treatment screening facilities at prioritised locations, in line with allocated funding.
ENDS//
For further information, please contact NI Water's Press Office on 02890 354710 or email press.office@niwater.com