Agriculture and Plumbing in Northern Ireland
05 November 2018 9:53
Most people in Northern Ireland appreciate there are legal requirements associated with planning permission, building control and electrical installations. However, they may not have a full understanding or awareness of the existence of Plumbing Regulations. These are known as the Water Supply (Water Fittings) Regulations (NI) 2009.
The regulations, made by the Northern Ireland Assembly are designed to prevent waste, misuse, undue consumption and most importantly, contamination of the public drinking water supply. The regulations require that all water fittings be of an appropriate quality and standard and suitable for the circumstances in which they are used. Water fittings must be designed and manufactured to ensure an adequate service life without leaking or failing prematurely, they must also be manufactured to meet relevant European or British Standards (where they exist) or the Regulators (Government's) specification.
Good design, regular maintenance and appropriate use of water fittings and plumbing systems can help reduce the risk of water contamination.
Michael McGreevy, NI Water Regulation Manager says, "Backflow and back-siphonage still remain a major source of water contamination incidents; however, these can be avoided. The regulations include requirements that all plumbing systems must incorporate adequate backflow protection. Simple, inexpensive devices such as double check valves hose union taps and air gaps (cisterns & ball valves) can provide the means of ensuring mains water remains safe to drink once it has entered the customers plumbing system.
NI Water is obligated to inspect new and existing customer premises for compliance with the regulations and does this using a dedicated team of technical inspectors. Where non-compliance is observed, improvement notices will be issued and the premises re-inspected to confirm the necessary improvements have been completed. Failure to comply with the regulations can ultimately result in legal referral.
*Below – A non-compliant improvised drinking trough in Co. Down with an unprotected & submerged ball valve; this is a water backflow contamination incident waiting to happen!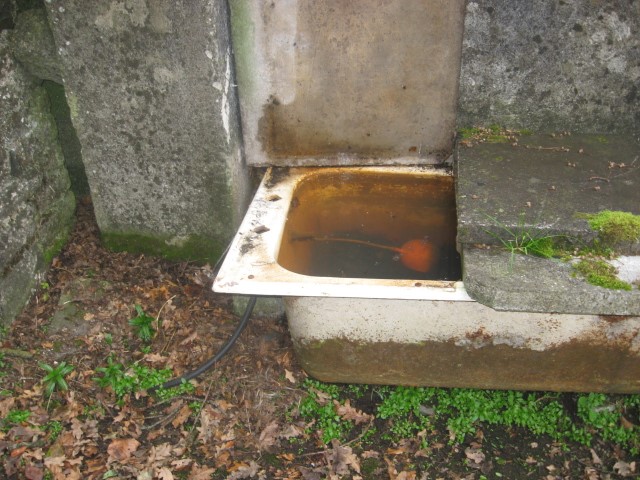 The regulations apply to premises that receive or will receive water provided by NI Water. They also apply to premises which have a dual supply involving a private source such as a borehole, spring or well. All premises are risk assessed by NI Water against the requirements of the regulations and as such, agricultural premises fall into the highest risk category along with the likes of hospitals and abattoirs.
Owners and occupiers of agricultural premises and anyone who works with plumbing must ensure there is no risk of deterioration or contamination in the quality of water from any plumbing system, water fitting or water using appliance they are responsible for. By following the requirements of the regulations, farmers will protect the water supply from contamination, prevent waste (thereby avoiding a waste of money where supplied via a water meter) and insure they have a reliable and robust plumbing system which will give good service.
For further information on the regulations and specifically how they relate to Agricultural premises please visit www.niwater.com/water-fittings-regulations. Alternatively telephone Waterline (03457 440088) and ask for a leaflet to be posted to you.