NI Water shows Ards and North Down councillors local Wastewater Treatment Works
22 March 2019 14:59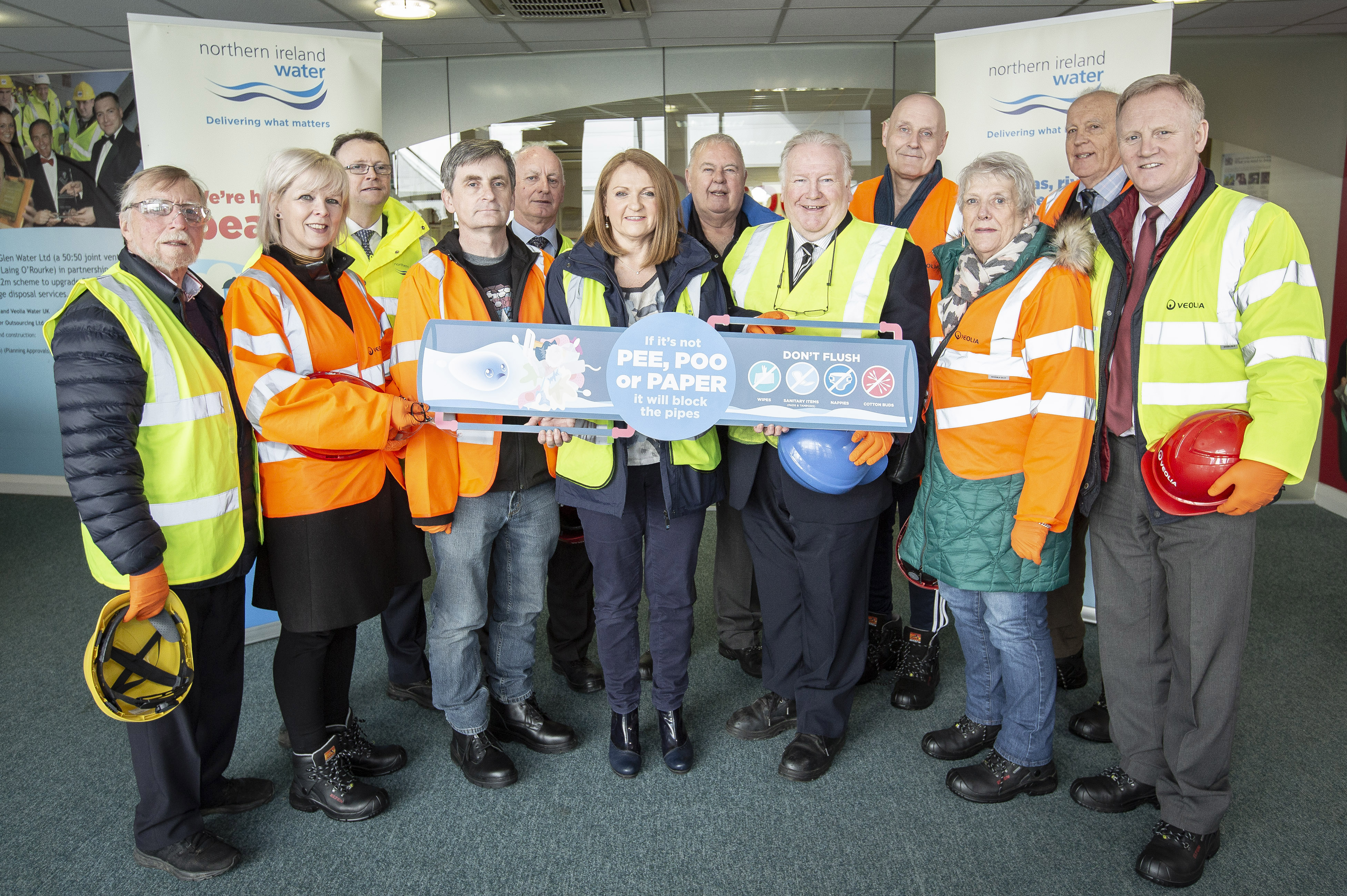 NI Water welcomed councillors from Ards and North Down Council to North Down Ards Wastewater Treatment Works near Donaghadee, which is operated by Veolia Water on behalf of NI Water, to show them how our wastewater is cleaned. The councillors were invited to tour the works following a presentation to the Council from NI Water's Head of Environmental Regulation, Angela Halpenny in December 2018.
Angela Halpenny says, "Everyone has a role to play in keeping our sewers clean and our water flowing. We appreciate councillors from Ards and North Down taking the time to listen to our message about the importance of only flushing the 3Ps: Pee, Poo and Paper. If everyone does this it will help prevent sewer blockages and keep water flowing in our pipes, thus helping to avoid unsightly deposits of sewage related debris on our beautiful coastline. I am sure the councillors will pass this important message on to constituents in their council areas."
David Lindsay, Director of Environment, Ards and North Down Council says, "Council staff plus an army of fantastic public spirited community volunteers spend countless hours lifting thousands of litter items from our beaches every year, many of which are there as a consequence of having been inappropriately discarded down toilets and into the sewerage system. The Council supports NIW's campaign to encourage every householder to stop and think before they flush, to avoid discharging anything other than the 3Ps into the sewerage system. This is one of the most important rules that we can all observe in the bid to protect our precious natural environment."
The opportunity was also taken to update the Council on NI Water's ongoing campaign to stop customers pouring fats, oil and grease (FOG) and food down the sink. NI Water's Head of Environmental Regulation, Angela Halpenny continues, "NI Water's 'Stop and think, not down the sink,' campaign is intended to encourage customers and businesses to dispose of food waste and oil in the bin and not down the sink. Food waste should be scraped into the bin and used oil can be poured into a bottle for recycling."
Ronan Larkin, Director of Finance and Regulation at NI Water says, "Every aspect of life in Northern Ireland relies on the water and wastewater services we provide. Our infrastructure is central to the growth of the economy. However, we still need to ensure we have the funding to do this and we need the Council to work with us to help make that happen. Although we are a regulated utility we have not been immune from public expenditure cuts and uncertainty over funding.
"As NI Water develops its investment plan for the next price control period (2021 – 2027) the investment needed to address wastewater capacity issues is expected to exceed £0.5bn, as part of an overall expenditure profile which is likely to approach £2bn.
"NI Water takes its obligations to its stakeholders seriously, and we welcome the opportunity to meet with councillors and officials in this format to outline our case and highlight our ongoing work in the Ards and North Down area."
ENDS//
Notes to Editors
Photo Caption: Pictured L-R: Alderman James Fletcher, Councillor Noelle Robinson, NIW Director of Finance and Regulation Ronan Larkin, Councillor Tom Smith, Alderman Ian Henry, NIW Head of Environmental Regulation Angela Halpenny, Alderman Bill Keery, Councillor Eddie Thompson, Councillor Mark Brooks, Councillor Roberta Dunlop, Alderman Ian Graham, Councillor Trevor Cummings.
Media enquiries to the NI Water Press Office on 028 9035 7695 or via email to press.office@niwater.com