The Mourne Wall- NI Water's very own Wonderwall!
31 May 2019 14:30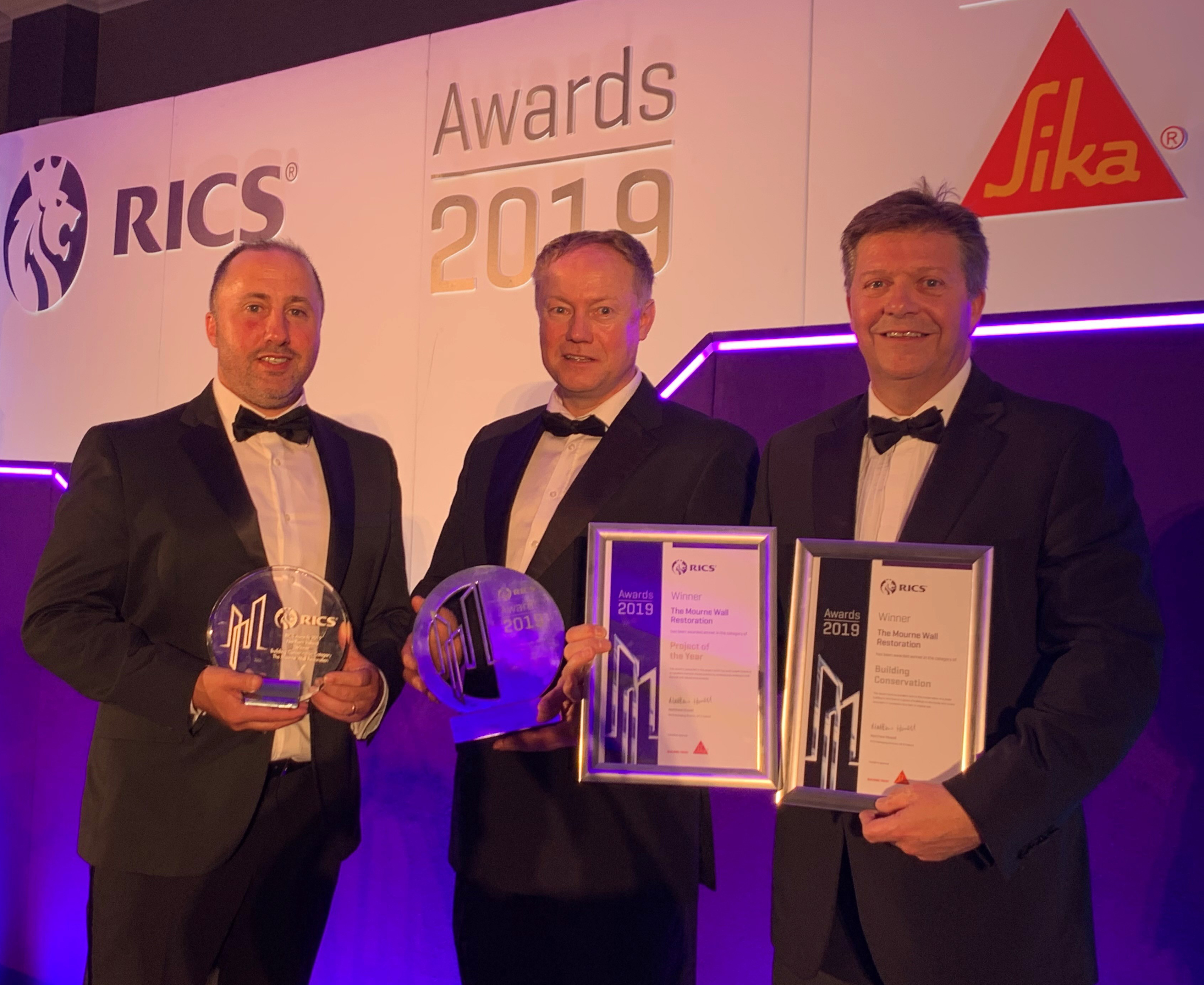 Congratulations to the NI Water team who picked up prestigious awards for Building Conservation and Project of the Year at the Royal Institution of Chartered Surveyors Awards last night.
The Mourne Wall Restoration Project saw over 600 repairs undertaken along the 22 mile-long granite structure – including a 27m collapse on Slieve Bernagh – as well as extensive path works. The project, which was originally estimated to take four years, was completed in less than two. Geda Construction was the contractor on this major project working in partnership with local stonemasons and RPS.
Hand built by the Belfast Water Commissioners between 1904 and 1922 to mark and protect the 9,000-acre water catchment, which feeds the Silent Valley and Ben Crom Reservoirs, the historic wall has been a listed building since 1996 and today is in the ownership of NI Water.
Working through all types of weather, the team hiked up to 6km a day to carry out the repairs. Missing capping stones – weighing up to 120kg each - were sourced from local quarries and donated by the National Trust, transported to site by helicopter and rolled into place using age-old methods.
In addition to the wall repairs, an extensive length of path works were undertaken in conjunction with Mourne Heritage Trust (MHT) to future-proof the restoration work and protect the integrity of the wall.
Michael Donnelly, NI Water's Senior Project Manager said:
"NI Water is delighted to receive these prestigious awards from the RICS. The Mourne Wall Restoration Project has seen the integration of sympathetic traditional construction techniques and modern innovative surveying methods to complete a challenging programme of 600 repairs over 12 mountains.
To have these prestigious awards bestowed on the team is recognition of the dedication and collaborative working instilled by stakeholders from the outset. I would like to thank Mourne Heritage Trust, NIEA, National Trust and Trustees of Mourne for their guidance and assistance throughout this initial phase of repairs and pay tribute to the strenuous efforts exerted by GEDA Construction, local stonemasons from Thomas Rooney & Sons and the team from RPS."
The project will now go on to compete against other regional winners at the final on Friday 4th October at the Royal Lancaster Hotel, London, for the chance to be crowned overall UK winner!
Ends
Media enquiries to the NI Water Press Office on 028 9035 7695 or via email to press.office@niwater.com
Photo caption: (L-R) NI Water's Michael Donnelly, Kieran Grant, and Mark Mitchell pick up the prestigious awards.