NI Water cleans up at IoW NI Innovation Awards!
11 May 2021 9:30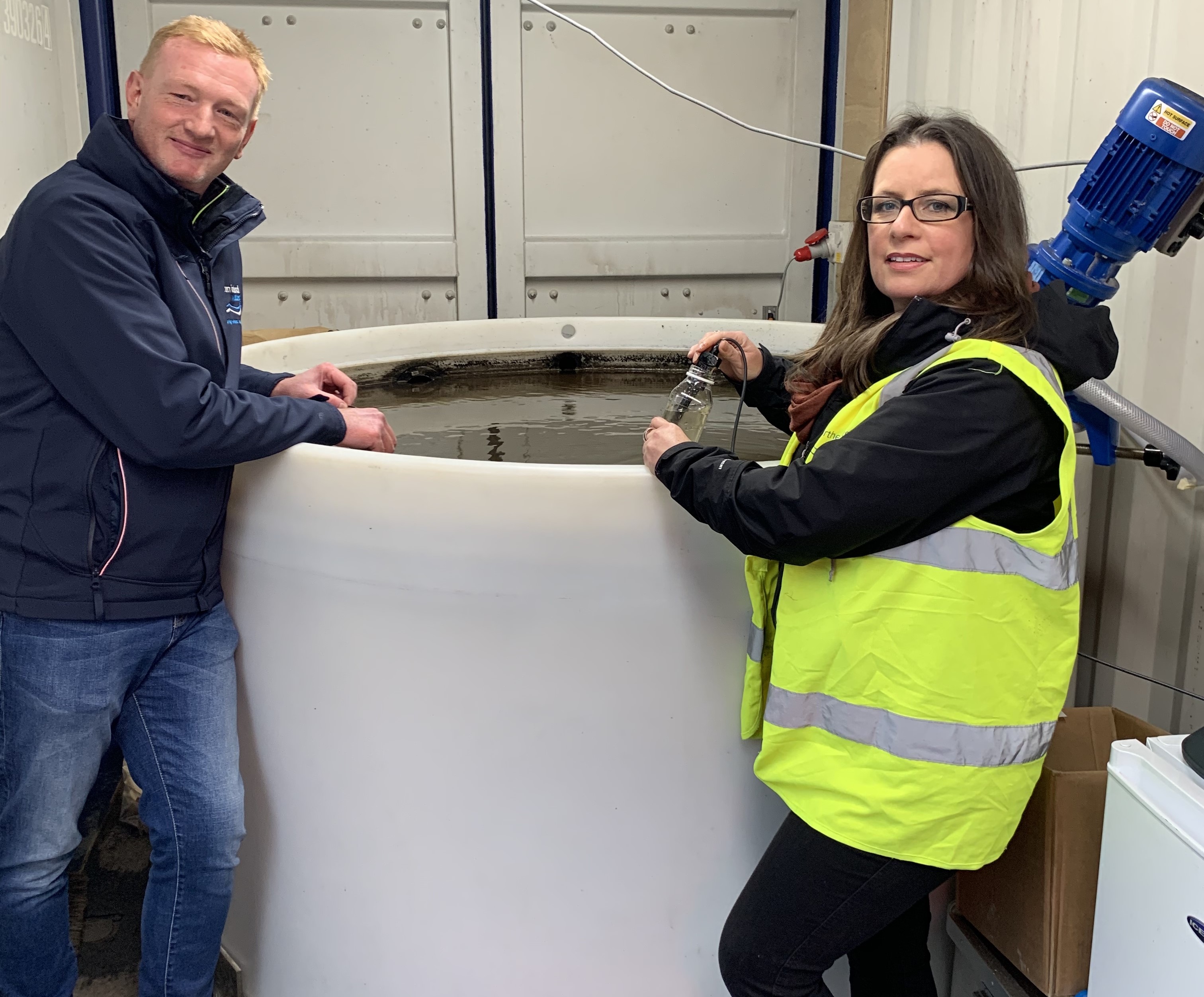 NI Water projects have secured first and second place in this year's Institute of Water (IoW) NI Innovation Awards - the first time in the competition's 10-year history that the top two prizes have gone to the same company!
The accolades were bestowed to the Derg Pilot Plant and Rathlin Island Water Treatment projects in recognition of their unique and innovative nature.
The Derg Pilot Project - which pipped the Rathlin Project to the post to lift first prize and go forward to the IoW's National Innovation Awards - is an innovative mobile testing facility developed by NI Water's Trevor Cousins built in partnership with local companies Lowry Building & Civil Engineering, Clinty Chemicals and RPS.
The Pilot Plant has been specially designed to allow it to be set up at any NI Water site to replicate the water or wastewater treatment process. It works offline, without affecting the water treatment process and allows the rigorous testing of the treatment process. Through real-time data collection and analysis, this pilot will allow NI Water staff to measure how effective each treatment process is before considering it as a permanent solution.
This forward-thinking approach means that the most effective and efficient treatment solutions can be determined and incorporated into future NI Water capital works programmes.
The Pilot Plant was initially established at Derg Water Treatment Works (WTW) in September 2020 to investigate potential treatment processes to address compliance issues around the herbicide MCPA and other chemicals used in the water treatment process.
The ability to reuse this innovative Pilot Plant at various treatment works, to improve the water treatment process is one of its greatest benefits. The whole plant can be relocated to other water treatment sites, with only set up costs incurred at each site.
Dymphna Gallagher, Head of Drinking Water Regulation for NI Water, said: "The innovative approach members of the water quality team – Trevor Cousins and Roisin McDade have taken at Rathlin and Derg Water Treatment sites has started something really exciting for NI Water. We have the capability to test new treatment streams in situ and more importantly this work has shown that innovation can be the mechanism for overall social, economic and environmental benefits for our communities by protecting and enhancing the water supply."
Infrastructure Minister Nichola Mallon added: "Congratulations to NI Water for being the first company in IoW's NI Innovation Awards competition history to achieve the top two awards. NI Water are working hard to find innovative solutions to their processes that benefit the environment and the economy and I am pleased to see these achievements recognised."
As well as the benefits of the innovative Pilot Plant, IoW judges were also impressed with the pioneering aspects of a key project on Rathlin Island to improve water treatment compliance standards and implement a system to reduce chemicals used in the water supply process.
Through extensive research and working with IXOM Ltd – a world leader in water treatment processes, the team developed a unique Magnetic Ion Exchange (MIEX) 'Mini MICo' system which uses a combination of resins to effectively treat the water with no chemical waste produced.
The results from this project have demonstrated the economic, environmental and operational benefits of Ion Exchange technology. NI Water is looking forward to building on the extensive knowledge gained through the Derg and Rathlin projects to further our research into a myriad of treatment technologies to ensure the most effective solutions can be identified in the future.
Top Image Photo Caption: (photo taken pre covid restrictions) NI Water's Trevor Cousins and Roisin McDade pictured at the Derg Pilot Plant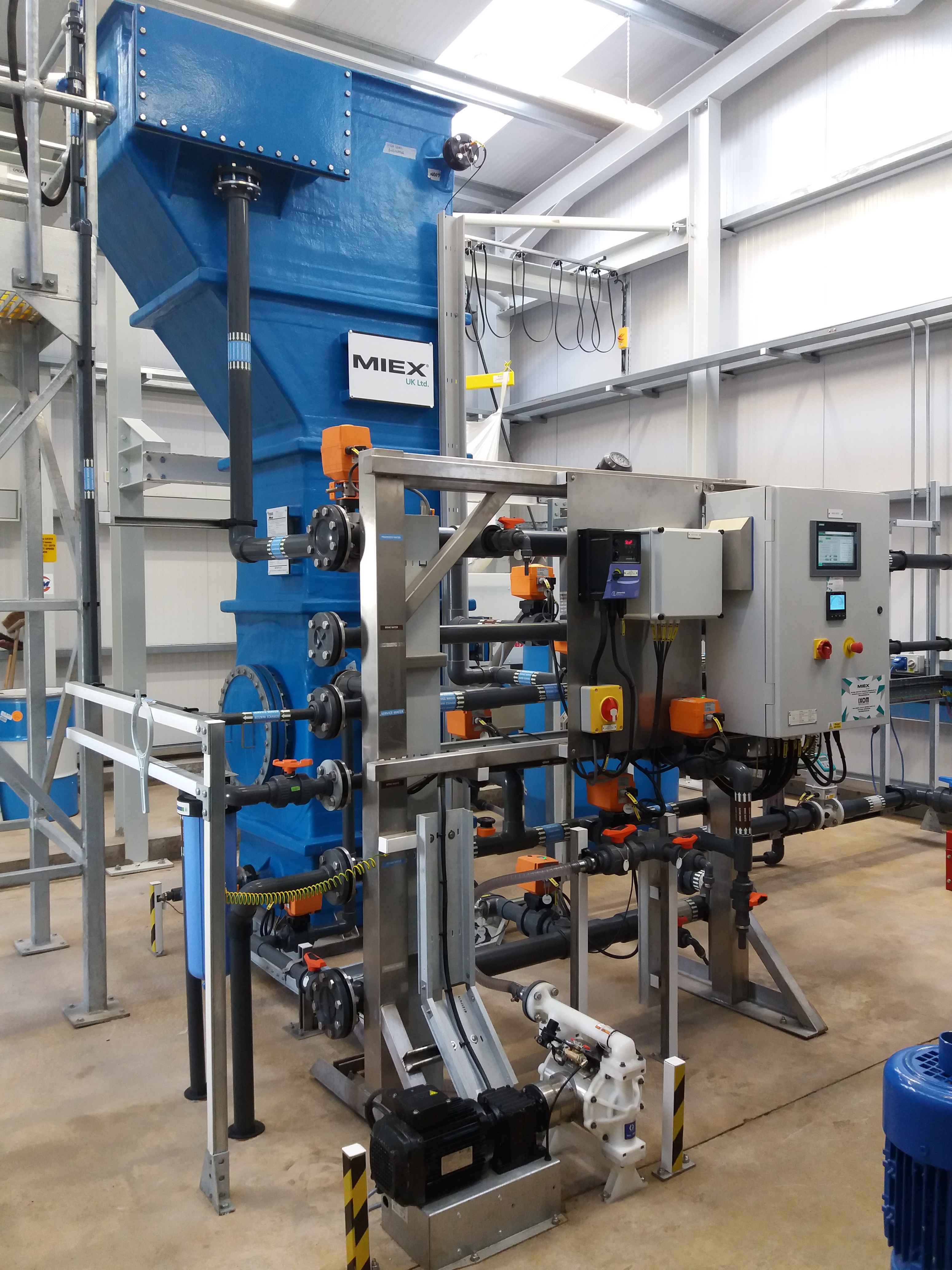 Photo Caption: Reactor with pipework at the MiEX plant at Rathlin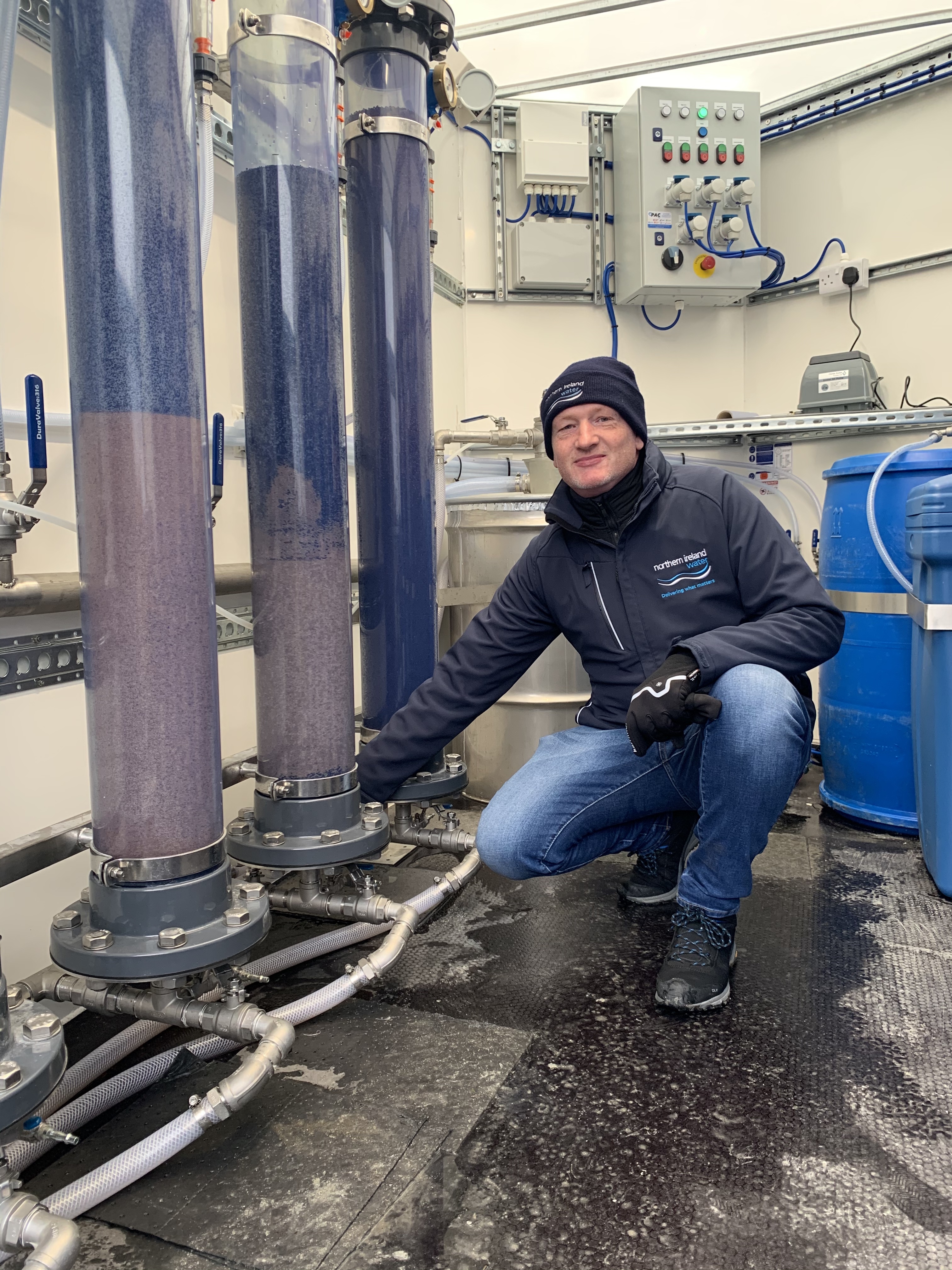 Photo Caption: Filter Media Testing - Trevor Cousins pictured at the Derg Pilot Plant.
Ends
For further information and media enquiries please contact: press.office@niwater.com
Notes to Editors:
The Institute of Water, founded in 1945, is the only professional body that exclusively supports the careers of anyone working in the UK water industry. For further information log on to: https://www.instituteofwater.org.uk/