NI Water's Ballygowan Project Team are bloomin' great!
12 November 2021 16:20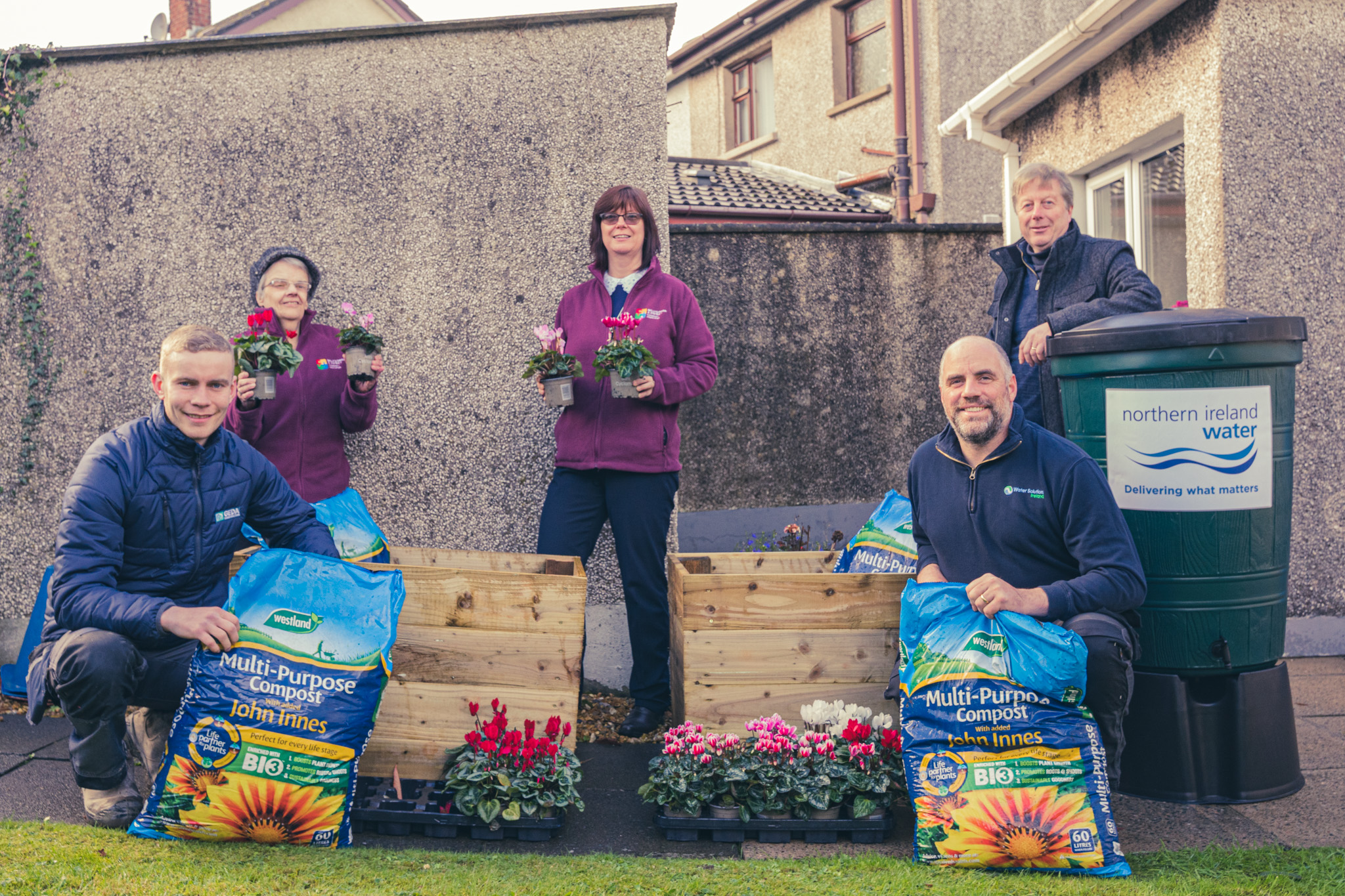 The NI Water project team working on the construction of a new £6.4m wastewater treatment works (WwTW) in Ballygowan have donated plants and planters to the local community association to help keep the village blooming this winter.
GEDA Construction and Water Solutions Ireland (WSI) recently provided a range of winter bedding, compost and planters made from recycled timber from the construction site to Ballygowan Community Development Association (BCDA), while NI Water was delighted to provide BDCA with a water butt to help keep the plants watered sustainably all year round.
BCDA Secretary, Charlene Lappin commented: "BCDA were delighted to receive such a lovely array of plants from NI Water's contractors working on the new treatment works. Our volunteers have already been out and about planting up the raised beds with the winter bedding to keep the village blooming. We are grateful to also receive two new planters made from unused timber from the construction site which will also be planted up to adorn the village and a water butt which will help us do our part to conserve water. The plants have created a lovely floral display which will last throughout the winter months and will be enjoyed by everyone in the community, residents and visitors alike."
Presenting the water butt to the community association, Damien Keown, NI Water Project Manager said: "We get plenty of rain in Northern Ireland, but this rainwater has to be cleaned at treatment works – like the one we are currently building in Ballygowan – before it goes into our taps. An average roof collects enough rain to fill 450 water butts every year. Using a water butt to catch the rain is just one thing we can all do to help protect our water supply and use water wisely."
Work on the new Ballygowan WwTW, which is being managed on behalf of NI Water by Tetra Tech, is continuing apace with most of the new concrete tanks now constructed by GEDA and electrical and mechanical installations continuing by WSI. The new treatment works – which will support economic growth and deliver environmental benefits for the village – is due to be completed by the end of spring 2022.
Ends
PHOTO CAPTION
Keeping Ballygowan Blooming: Charlene Lappin and Heather Benson (L-R back) from Ballygowan Community Development Association take delivery of plants and planters from (L-R front) James Brady, GEDA Construction and Andy Shirley, Water Solutions Ireland. Also pictured is Damien McKeown from NI Water (back right) who presented BCDA with a water butt.