Success continues to 'flow' for NI Water at the Belfast Telegraph Awards!
27 May 2022 16:43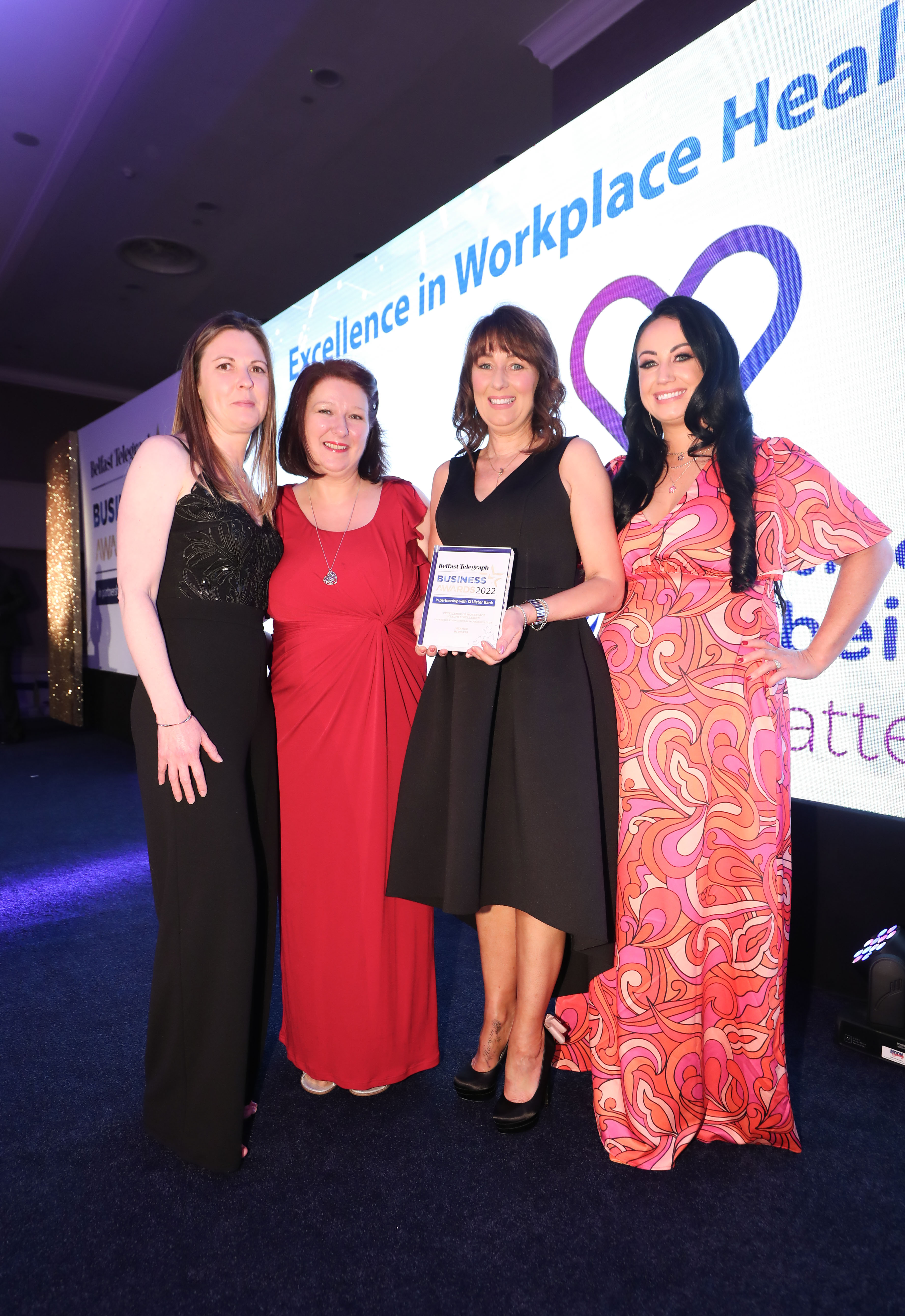 Pictured L to R are Christine McIlhatton, Kate Rooney, Alison Sweeney, Fiona Dowds

NI Water is celebrating after winning the much coveted 'Excellence In Workplace Health & Wellbeing' award at the Belfast Telegraph Business Awards. This is the third prestigious business award that the company have won for Health and Wellbeing in the last 9 months as NI Water continue to lead the way in this field.
Alison Sweeney, Health and Wellbeing Manager at NI Water, commented:
"We are absolutely thrilled to have won the highly contested 'Excellence In Workplace Health & Wellbeing Award'. This award demonstrates NI Water's excellence in inspiring and supporting our employees to prioritise their health and wellbeing and embrace positive lifestyle choices whilst delivering what matters for Northern Ireland.
Our wellbeing strategy has actually saved lives through early detection of health conditions, and this is made possible by employees sharing their personal stories to support others. Our programmes are designed with and for our employees and encompass a vast array of activities and benefits to meet a diverse range of needs and circumstances. This supports the provision of a happy and healthy workplace, helping to make NI Water a great place to work. This is a phenomenal achievement. Well done to the cross functional team of passionate people across NI Water who make this happen."
Rose Kelly, Director of People and Learning at NI Water commented,
"Being recognised in this category is affirmation that we are on the right path to becoming industry leaders in the area of Health & Wellbeing. It is a testimony to our passion for employee wellbeing and the work we are doing to ensure we are a world class employer. It is a privilege to be part of such an innovative people centric organisation."
Winners in all categories were announced at The Crown Plaza Hotel Belfast.
For more information on the Awards and to see a full list of 2022 winners, visit Belfast Telegraph Business Awards 2022 - BelfastTelegraph.co.uk