Not just a 'bog' standard awards ceremony for NI Water's Schools Poster Competition!
21 June 2022 16:42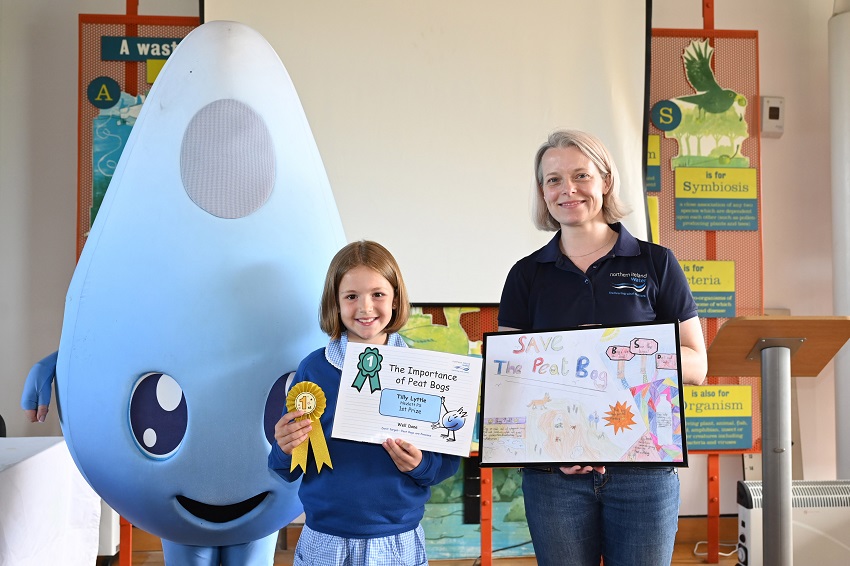 NI Water recently held their schools award ceremony celebrating the artistic talents of Key Stage 2 pupils from across the country. Finalists along with their classmates joined NI Water's Catchment Officer, Rebecca Allen and special guest, Neal Kerr, Director of McAdam design, who rewarded them for their fantastic creations about saving water.
Rebecca Allen said: "I would like to congratulate all the entries to NI Water's 'The importance of our Peat Bogs' schools poster competition. They were all excellent which I am sure made it a difficult task for the judges.
"The importance of our peat bogs was this year's theme to highlight not only the importance of these unique habitats for not only animals and plants but also in our fight against climate change. Thank you to everyone who took part, whether you submitted a poster, came up with an idea or encouraged your school to join in."
NI Water's Outreach and Learning Officer Anna Killen comments, "NI Water's Annual School Competition is now well established and ever growing in popularity. 'The importance of our Peat Bogs' was this year's theme, intended to showcase how important peat bogs are to the environment, the impact peat bogs have on water and how we can protect them.
"This competition was designed to provide a channel for Key Stage 2 pupils to use their creative talents and share with others the message that water, and peat bogs are precious and are worth taking care of.
"Young people were challenged to design a poster to illustrate to others how important peat bogs can be to the environment, animals and habitats and the need to look after them. Our judges had a difficult task in selecting the category finalists, as the standard of work was – as always – very high."
NI Water owns around 3000 hectares of peatlands and is working hard to protect and restore bogs that are in poor condition and has completed vital work on the Garron Plateau in North Antrim which is the largest blanket bog in Northern Ireland.
With over 100 bogs to visit across Northern Ireland, why not visit one of your local bogs at the Garron Plateau, Cargan or Montaighs Moss Nature reserve, Aghagallon to discover more about these fascinating habitats?
ENDS
For more information, please contact NI Water press office at press.office@niwater.com
Photo Caption: Tilly Lyttle, a pupil at Hezlett Primary School, Castlerock was awarded first place in NI Water's 'The Importance of Peat Bogs' annual schools poster competition by Rebecca Allen, Catchment Officer, NI Water.