Mourne Wall restoration progress allows earlier start on Slieve Donard repairs
07 November 2022 17:45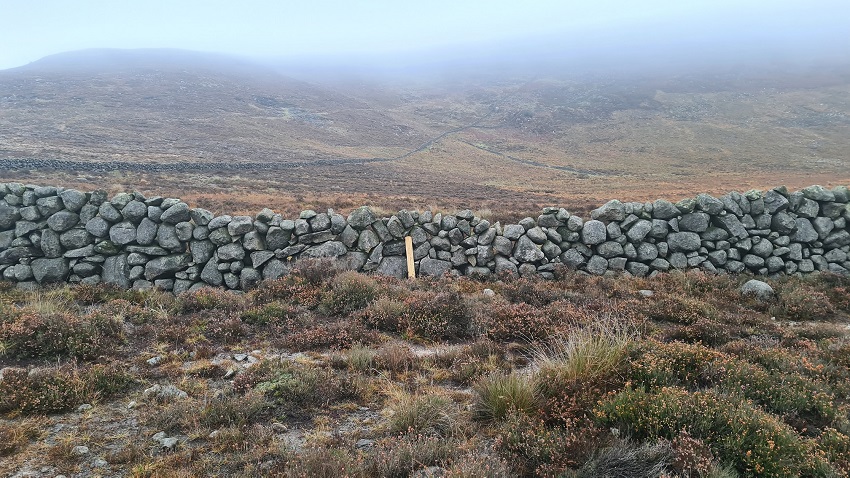 Before - repair on Slievenaglogh South completed
The NI Water Mourne Wall Restoration Project team is making good progress with the £2.5m phase two schedule of repairs and plans to start works on Slieve Donard this month.
The construction team led by GEDA and encompassing local stonemasons from Thomas Rooney & Sons, has completed more than 65 repairs on Slieve Muck and Slievenaglogh South since August and as a result of mild weather conditions will move to Slieve Donard earlier than expected.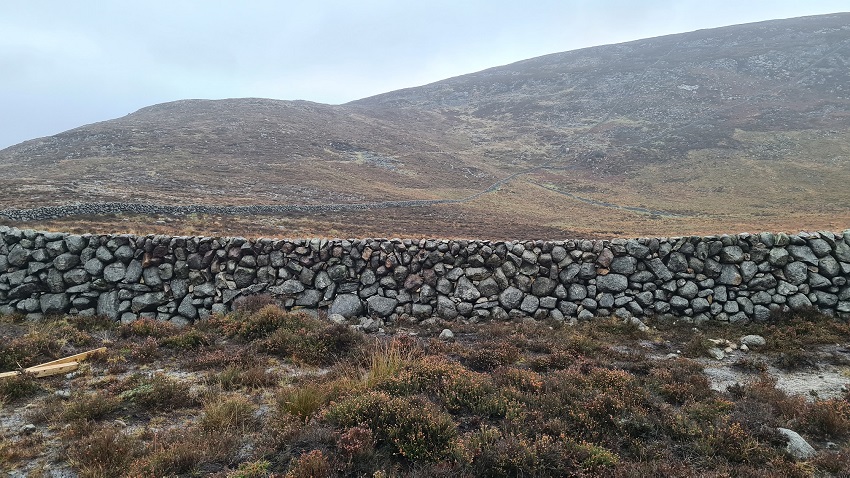 AFTER - repair on Slievenaglogh South completed
Speaking about the work, Michael Donnelly, Senior Project Manager with NI Water said: "The stone for the repairs on Slieve Donard has been bagged and is sitting in Binnian Quarry ready to be transferred by helicopter to the required locations on Slieve Donard. With favourable weather conditions presently, the team plans to start transporting the bagged stone and getting repairs on Slieve Donard underway in November.
"NI Water would ask the public to be mindful of the ongoing work to restore the 100-year-old Mourne Wall and the possibility of helicopters being in the area for a short period. As always, any helicopter lifts will be carefully managed, with stewards and signage in place for health and safety purposes."
"As this important project continues, I would like to thank Mourne Heritage Trust, NIEA, National Trust and the Trustees of Mourne for their ongoing guidance and assistance and acknowledge the strenuous efforts exerted by the contractors and wider project team in carrying out this vital work."
Around 75 repairs have been identified for the section of wall on Slieve Donard with work expected to take around 6-8 weeks depending on weather.
At the heart of the phase two programme of repairs – being managed on behalf of NI Water by RPS – is a proactive 'stitch-in-time' approach which will see the careful dismantling and rebuilding of vulnerable bulges in the 22mile-long wall to aid its longevity.
Ends
Notes to editor:
Hand built by the Belfast Water Commissioners between 1904 and 1922 to mark and protect the 9,000-acre water catchment which feeds the Silent Valley and Ben Crom Reservoirs, the wall has been a listed building since 1996 and today is in the ownership of NI Water.
Phase two funding will bring to over £4m the investment made by NI Water to date, to protect the wall and ensure that it continues to be a sturdy guide for many years to come.
Over 600 repairs were completed across 12 mountains as part of phase one wall repairs.
The stonemasons face a daily hike of up to 6km, with their tools and supplies – including 6ft planks – before they start a day's physical labour.