Everyone everywhere has the right to a decent toilet!
18 November 2022 16:33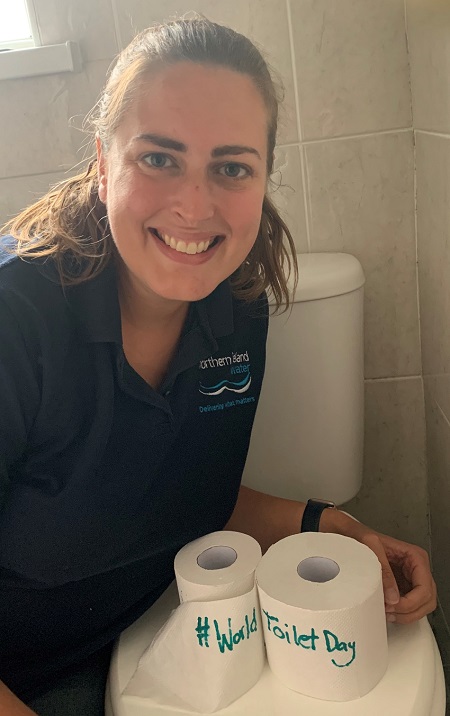 World Toilet Day is celebrated on the 19 November each year to raise awareness of the nearly 1.7 billion people still living without a decent toilet of their own.
NI Water supports WaterAid to show that a toilet is not just a toilet; it's a life-saver, dignity-protector and opportunity-maker. Everyone everywhere has the right to sanitation, but without this, diseases spread fast and people's lives are put at risk.
It is also a timely reminder for us here in Northern Ireland to love our loo and to make sure we 'Bag it and Bin it, Don't Flush it'. Wipes, cotton buds, nappies and sanitary items flushed down the toilet cause blockages in our sewer systems resulting in out of sewer flooding and unfortunately these eyesores and pollutants can appear on our beaches impacting the environment.
To highlight the importance of toilets this World Toilet Day we are joining WaterAid and Water Companies from across the UK to host a special World Toilet Day Live event for primary schools to reinforce the 'Bag it and Bin it' message and support WaterAid's vision of a world where everyone, everywhere has access to safe water, decent sanitation and good hygiene.
NI Water has been liaising with the Northern Ireland Environment Agency on the matter. Emergency Pollution Officer Kevin McGrady said "The sewerage systems serving our towns and cities in NI, can suffer greatly from inappropriate use, such as the flushing of sanitary items, wipes, disposable nappies and cotton buds. Large volumes of these items can act to overwhelm or block screens at wastewater treatment works, leading to some of this debris being discharged to our rivers and beaches.

"Such inappropriate items can even block the sewers themselves causing polluting discharges to occur. These overflows can impact directly on our water quality and can also have a negative impact on the aesthetic quality of our environment.

"A significant number of pollution discharges that occur each year relate to blockages of the sewerage system, and this is an issue that is easily and completely avoidable if we all stick to the '3 Ps' and we think first before flushing anything else. The Northern Ireland Environment Agency is fully supportive of NI Water's '3Ps' campaign which is acting to change behaviour and bring environmental improvement."
Photo caption:
NI Water's Anna Killen participated in the 'We are Water UK' initiative which saw teams across the country alongside the charity WaterAid celebrate World Toilet Day (19th November), promote the importance of toilets and explain how we all have a part to play in looking after our water environments.
Over 80 Northern Ireland schools joined us for this special Assembly consisting of over 5,000 pupils and teachers.
ENDS
For further information, please contact NI Water Press Office on email press.office@niwater.com