Utility companies unite to keep consumers connected this winter
06 December 2022 14:50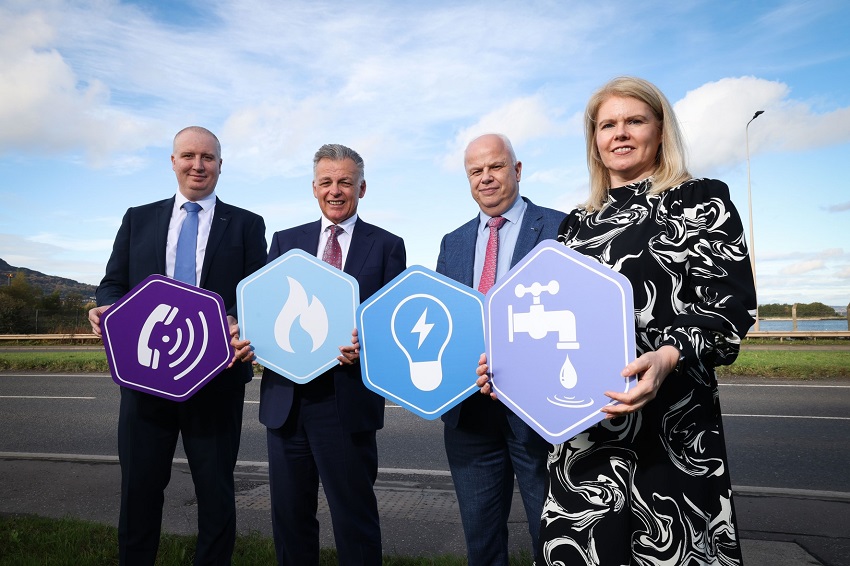 As we approach the challenging winter months, NI Water have joined with three other Utility Companies - NIE Networks, Openreach and Phoenix Natural Gas - to help prepare households for disruptive weather.
Pictured at the launch are Garret Kavanagh, Director, Openreach Northern Ireland, Michael McKinstry, Chief Executive, Phoenix Natural Gas, Roger Henderson, Director of Network Investment, NIE Networks and Sara Venning, Chief Executive, Northern Ireland Water.
The joint utilities preparedness campaign has been running for over a decade now with the companies advising consumers how to avoid disruption to supply where possible and of the important numbers to call should they experience difficulties with supplies.
Derek Hynes, Managing Director of NIE Networks and Chair of the Joint Utilities Working Group, said: "The winter can provide additional challenges in terms of supply as we traditionally encounter colder and stormier weather which can impact the overhead cables and underground pipes. Over the next four weeks we will be sharing information online and in local papers to advise consumers as to what they can do to help avoid disruption in the first instance."
"As utility providers we understand the importance of our services in enabling people to live and work. The campaign will therefore also highlight the emergency numbers for consumers to call in the event that they experience disruption to supply. In line with our vulnerable customer service, we are also asking people to keep an eye out for those who perhaps need additional support or who live alone and to contact us if they have any concerns, even if it is not their own property. We have a special team who will work with them to ensure that we keep everyone connected and safe this winter."
"As always, if we experience damage to our networks, our engineers will mobilise as soon as it is safe to do so to get our customers connected again as quickly as possible."
To report any faults or in the case of any emergencies please contact:
NIE Networks: 03457 643 643 or visit nienetworks.co.uk
Northern Ireland Water: 03457 44 00 88 or visit niwater.com
Openreach: 08000 23 20 23 or visit openreach.co.uk/ni
Phoenix Natural Gas: 03454 55 55 55 or visit phoenixnaturalgas.com