NI Water Leading the Way in Apprenticeships
03 February 2023 12:06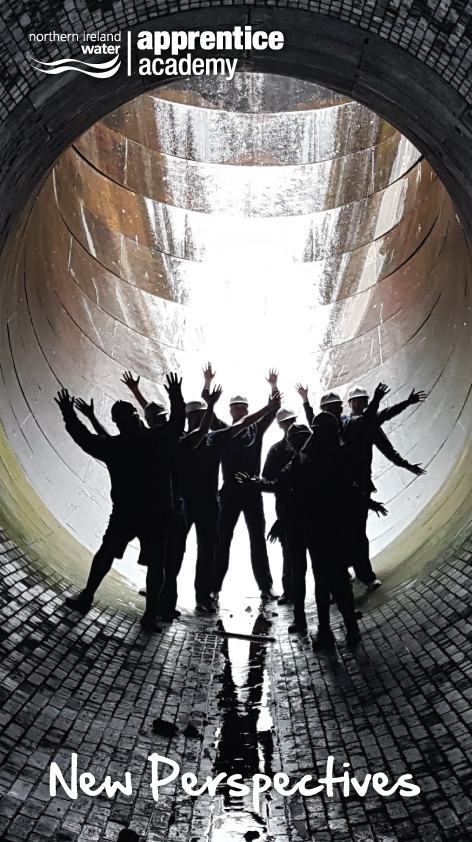 As UK National Apprenticeship (6th-12th February) approaches NI Water is taking the opportunity to celebrate its talented apprentices who are playing a vital role in delivering a key public service in Northern Ireland.
From school leavers and graduates, to those embarking on a career change, NI Water's award winning Apprentice Academy is open to all, providing world class training and excellent career development with the opportunity to earn as you learn and get qualifications debt free! Apprentices are supported by an amazing team of trainers, buddies and mentors, passing on their years of knowledge, skills and experience to the new recruits. Teams across the business provide a nurturing and fun environment to learn enabling Apprentices to grow and excel in their career at NI Water.
Paula Graham, Head of Learning and Engagement explained:
"NI Water is core to the health, economy and environment of Northern Ireland. Attracting, developing and retaining enthusiastic and motivated apprentices is not just key to achieving our business goals but helps to make NI Water a great place to work. Our Apprentice Academy has grown from strength to strength over the last number of years, recently winning the CIPD award for Northern Ireland's Best Apprenticeship Scheme 2022.
We are a company powered by the outstanding talent of our people and we are proud of the diverse and inclusive culture we have created in which people are valued and respected for who they are and for the contributions they make in delivering what matters to Northern Ireland."
NI Water's Apprentice & Graduate Coordinator Clodagh Patterson, explains what aspiring employees can expect: "We currently have 82 Apprentices across disciplines in Water Utilities, Cyber Security, Civil Engineering and Mechanical & Electrical Engineering, with ambitious growth and diversification plans in 2023.
"Apprentices will be part of a diverse and inclusive workplace where everyone matters. We are proud to offer very competitive salaries, great work with fantastic training and career development opportunities. I would encourage anyone that wants to join a progressive and forward thinking organisation to apply and be part of something bigger."
Jamie Marshall, who joined the class of 2022 as a Water Utilities Apprentice, explains the benefits of the academy: "Prior to starting my apprenticeship at NI Water, I studied sports at University and had no real knowledge of the water industry. I was attracted to NI Water because of the essential nature of the work they do for society in Northern Ireland. Since joining NI Water, my level of knowledge of the water and wastewater industry has not only improved daily, but I've created bonds and friendships with colleagues and trainers which made the settling in process that much easier. Everyday whilst training, we're greeted with a friendly smile whilst being provided with a first class learning environment to help learn and grow. I hope to have a long and successful future at NI Water."
Click here to register your interest in our Apprenticeship Programme
ENDS
Notes to editor – all media enquiries to press.office@niwater.com