£7.8 Million Wastewater Investment for Portadown gets Underway
21 March 2023 17:03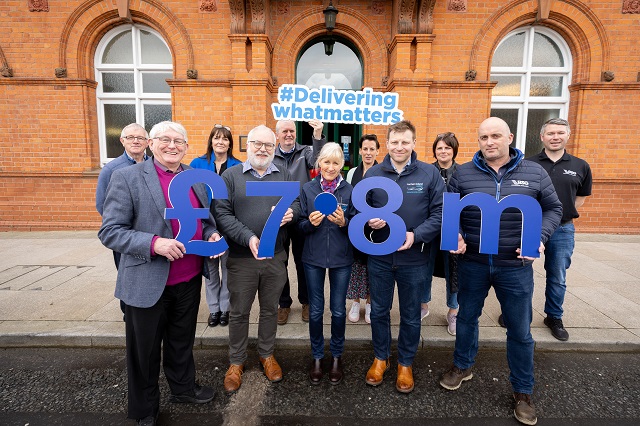 Local councillors, members of Portadown Chamber of Commerce and Portadown's town centre manager join NI Water and their Meadow Lane project team from McAdam and BSG to announce plans for a £7.8m investment in new wastewater infrastructure to support local development and deliver environmental improvements.
(L-R) Front row: Brian McLaughlin, Portadown Chamber of Commerce member, Adrian Farrell Chair Portadown Chamber of Commerce, Lisa Hughes, John Griffin (both NI Water) and Conor Ward from BSG. (L-R) Back row: Councillor Eamon McNeill, Sharon Watson The Range, Norman Annesley McAdam, Helen Donnelly Town Centre Manager, Councillor Julie Flaherty and Ciaran Donnelly BSG.
NI Water is about to commence a £7.8 million programme of work at Meadow Lane, Portadown to upgrade the wastewater infrastructure to reduce the risk of out of sewer flooding, whilst supporting local development and delivering extensive environmental improvements in the area.
The work will involve a major upgrade at Meadow Lane Wastewater Pumping Station (WwPS) located adjacent to Meadow Lane East car park; the provision of a sizeable new stormwater storage tank at the WwPS site and the laying of new large diameter sewers, mainly by means of underground tunnelling.
John Griffin NI Water's Head of Wastewater Capital Procurement (Infrastructure) said:
"NI Water is delighted to announce this major £7.8 million investment for the local wastewater infrastructure, which will benefit our customers in the Portadown area, bringing key improvements, such as reducing the risk of out of sewer flooding and boosting economic growth and future development.
"This major investment will also bring about key environmental benefits, ensuring NI Water complies with Northern Ireland Environmental Agency (NIEA) standards to improve the water quality in local watercourses."
The work will be undertaken in phases and is expected to take around two years to complete.
In agreement with Council, to support the construction works at the existing WwPS site, our contractor, BSG Civil Engineering, will begin setting up their site compound on the grass area adjacent to 'Pleasure Gardens Play Area' towards the end of March 2023.
The existing access road to the play area, bowling green and adjacent car park will be closed to facilitate the construction work and a new temporary access road to these areas will be constructed from the council-owned Meadow Lane East car park. Signs will be erected to provide directions for the public during this time.
As part of the work to create this temporary access, the old wall at the back of Meadow Lane East car park will be replaced with new fencing. This will allow a number of car parking spaces, currently fenced off, to be brought back into use.
The existing WwPS at Meadow Lane will remain operational while works are ongoing. As part of the upgrade, the old buildings on the site will be demolished and a new kiosk will be installed. Once the upgrade has been completed, the original access road and footpath will be realigned before being reopened in 2025. The temporary access will then be removed.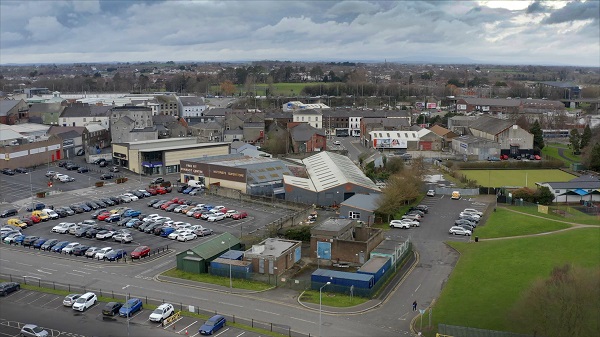 The existing Pumping Station, which will be upgraded as part of the scheme
As part of this important environmental improvement project, tunnelling works will be required at three strategic locations in private lands off Meadow Lane. Information regarding tunnelling works; other pipelaying works and any associated traffic mangagement arrangements will be communicated well in advance of work getting underway.
We would take this opportunity to highlight that construction sites are dangerous areas for unauthorised persons. Working areas will have warning signs in place to protect the public from any hazards. The public are advised to stay away from these working areas for their own safety.
NI Water and our project team from McAdam and BSG, will keep stakeholders informed as the different phases of the project are programmed to get underway.
We appreciate the cooperation of all our stakeholders, including local businesses, residents, and the council as we progress this important project.
This £7.8 million investment is an excellent example of what can be done when the necessary funding is in place. NI Water looks forward to the necessary funding being put in place across the full six-year period of our PC21 business plan to 2027.
Over the past fifteen years, we have steadily improved the efficiency with which we operate while at the same time improving the quality of drinking water, levels of environmental compliance and the services we provide to our customers.
Ends
For further information, please email press.office@niwater.com
Notes to Editor:
• In 2007, NI Water's operating costs were 49% less efficient than the leading UK utility comparator. A benchmarking analysis carried out by the Utility Regulator and reported in the PC21 Final Determination, confirms that NI Water has closed the operating cost efficiency gap with leading water sector companies in England and Wales to just 5.7%.
• We have rationalised our use of operational and office-based assets and systems throughout this period leading to lower costs while at the same time improving overall levels of customer service and both drinking water and wastewater compliance.
• NI Water is ready to provide engineering solutions to short term constraints where possible. We plan to invest £2.2 billion in total during the PC21 period (2021/22 to 2026/27), with over £1bn being invested in wastewater assets. However, the full scale of the wastewater capacity issues across Northern Ireland will realistically take at least 12 - 18 years, or two to three Price Control periods, to address. It is therefore critical that the PC21 business plan is fully funded, and all future investments will depend on the provision of funding to NI Water by the NI Executive.