Claire Champions Future of Women in Wastewater
24 March 2023 11:07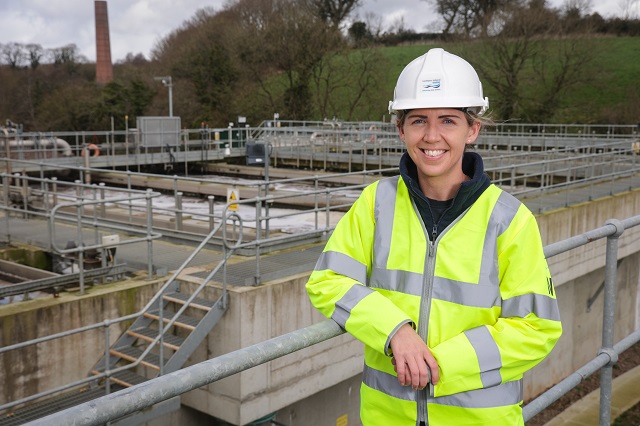 An NI Water employee has received international recognition for leading the way and helping to inspire women in the wastewater industry.
Claire Cowden won The Nereda Operator of the Year Award from Royal HaskoningDHV (RHDHV), in recognition of her innovation and dedication to her challenging work as a Wastewater Assets Technician in Dungannon.
Claire, who joined NI Water in 2021, was selected from operators world-wide to receive the award at the Golden Granule Awards, during an Operators Day.
For Claire it is not only an award for her but also for NI Water and for women in wastewater.
"The award was a huge surprise, as I wasn't expecting to be recognised for my work. But, I'm honoured to be recognised and privileged to be working with a fantastic team at both NI Water and RHDHV."
Claire currently works on site at Dungannon Wastewater Treatment Works (WwTW) which uses the innovative Nereda process, technology which places the plant at the forefront of world class industry innovation offering a low energy solution for the treatment of both domestic and industrial wastewater.
It is a challenging industry but one which has offered Claire immense fulfilment, particularly working at a plant that is operating to protect the natural environment. She explains: "I realised I had a great interest in wastewater and was keen to expand my knowledge and gain more experience. To enable me to further my career in the future, I felt the best way was to get hands on experience on the ground, in operations!
"In 2021 I started a Wastewater Assets Technician role based in Dungannon WwTW – Nereda. As the only plant of its kind in Northern Ireland, at present, I was excited for this new challenge and I was soon fascinated and intrigued by this new technology with its many environmental benefits and I wanted to delve into more detail.
"I completed the Aerobic Granular Sludge Technology for Wastewater Treatment course with TU Delft in July '22 and discovered just how interesting this new technology was. After that I participated in the Nereda Operators Day 2022, sharing thoughts and experiences with fellow Nereda Operators worldwide and it was at that event that I received the international award."
Claire is now hoping to use her own success to encourage other women to get involved in the industry.
She added: "Life as an Operator can vary from interrogating trends, troubleshooting, proactive decision making, maintenance of instruments, scientific on-site testing, record keeping, but most importantly – always ensuring compliance. The list goes on, no two days are the same and there is a lot of variety, which also keeps things interesting!
"I am proud to be a woman working in wastewater and I hope I can encourage and inspire more women to join the Wastewater industry! Just get stuck in and discover the fascinating world at the end of the sewerage system! "
Ends
For further information please contact press.office@niwater.com