NI Water Hosts Tour of Ards North Wastewater Treatment Works
16 August 2023 14:32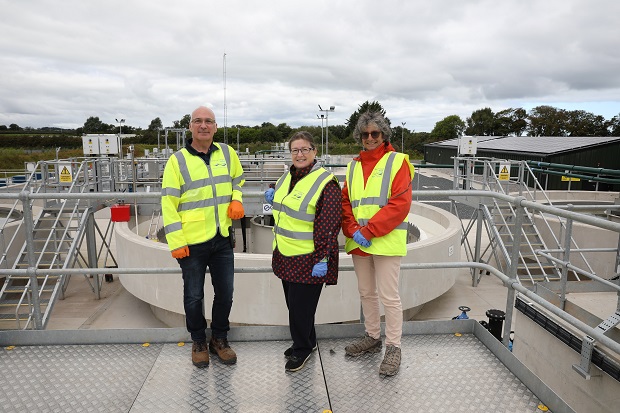 NI Water was delighted to recently welcome Kellie Armstrong MLA and Councillor Patricia Morgan to the recently completed Ards North Wastewater Treatment Works off the Ganaway Road in Ballywalter. Mark Consiglia, Wastewater Assets Area Manager – East, led the tour of the plant and gave an overview of the wider £18 million wastewater project, which will help improve the quality of bathing waters along part of the Ards Peninsula.
The project, which got underway in May 2021, included the construction of new wastewater pumping stations and pipelines to rationalise and upgrade the wastewater infrastructure in the Carrowdore, Ballywhiskin and Ballywalter catchments.
The new treatment facility has been designed to treat all wastewater flows from the villages of Carrowdore, Ballywhiskin and Ballywalter - as well as local caravan parks - to strict environmental standards before discharging the treated effluent out to sea via a new long sea outfall pipe, constructed off the coast at Ballyferris.
This major multi-million-pound project demonstrates NI Water's commitment to ensuring that our wastewater network and treatment facilities are of world-class ability.
The investment will help deliver significant environmental improvements, including cleaner beaches and bathing waters and will support long-term economic growth in local development.
Pictured are:
Ards North WwTW: (L-R) Mark Consiglia NI Water, Kellie Armstrong MLA and Councillor Patricia Morgan.
Ends
For further information, please contact: press.office@niwater.com