Customers, please be aware that NI Water are currently trialling new software which will assist our staff in resolving your issues. This software is called SightCall and it will allow our staff (with your permission) to connect to your smart phone. A customer service agent will issue a message to your phone with a link to download an app called visual support, the message will appear as below. The app is the tool that allows our customer service agent to connect to your phone and it works similarly to FaceTime or Skype.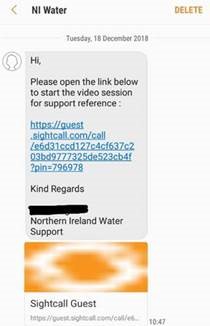 You will only get a text message to initiate a SightCall session if you have called us and requested assistance, the customer service agent will tell you that you will receive a text and what you need to do to start the SightCall session.
When the call is initiated the customer service agent will be able to view what you see through your phone's camera/speak to you through the speaker on your phone. You will also be able to share pictures that you have taken on your mobile of the issue you are reporting to NI Water or mark on screen what the issue is. You may disconnect the call at any time. You can also delete the app from your phone when your call has ended.