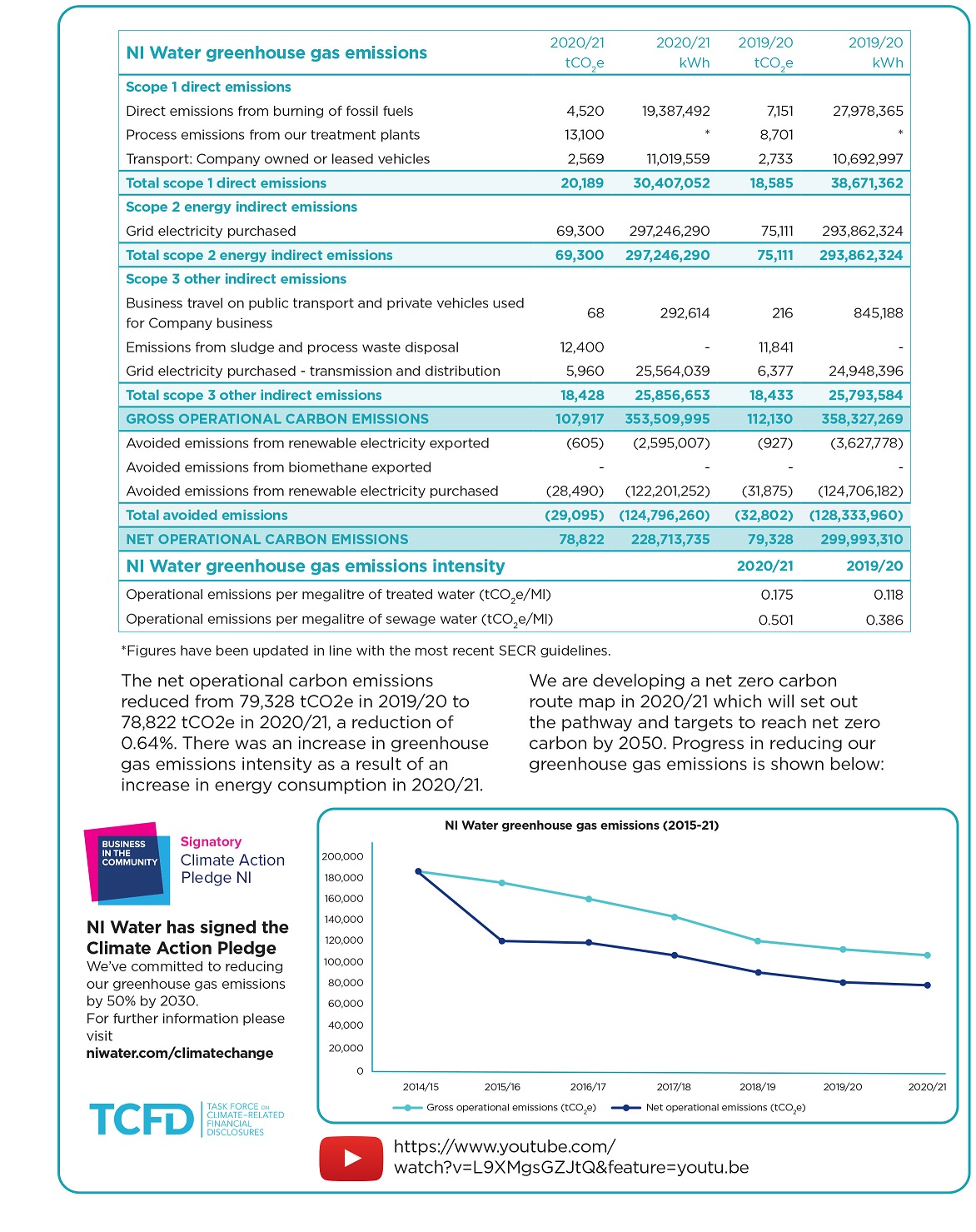 Operational emissions from the water industry account for nearly 1% of the UK's total carbon emissions. This is because water treatment is energy and chemical intensive and transporting water requires a great deal of pumping. Grid electricity accounts for the vast majority of our carbon emissions. As Northern Ireland's single largest electricity consumer, our goal is to fully exploit innovative approaches to energy and new technology to reduce our carbon footprint and ultimately become carbon neutral by 2050.
Our initial focus in PC15 on reaching net zero has centred on energy under the following themes:
using less: reducing our energy consumption and improving energy efficiency;
buying less: reducing the amount of energy we buy and increasing renewable energy generation;
buying better: reducing the costs of the energy we use; and
earning more: maximising the revenues from the energy sector.
Our focus will widen further as we approach PC21. In 2019/20 we successfully achieved the ISO 50001 certification, the international standard for energy management systems, which will allow us to achieve continual improvement in energy performance.
In 2020/21, we are aiming to increase our electricity consumption from renewable sources such as solar and hydro power to 40%, rising to 100% by 2027, and plan to improve our storage of carbon by planting around 200,000 trees in partnership with the Woodland Trust. Over 2020/21, we will also liaise with peer water companies to determine how we can capture additional areas in our carbon footprint reporting and embed carbon in our business case decision making. Our carbon footprint doesn't currently capture some emissions from treatment processes, embedded carbon in materials such as concrete used to construct our infrastructure or in the carbon stored in our land - peat bogs, trees and soils.
Initiatives under consideration to reduce carbon emissions over PC21 include transitioning to electric vehicles and energy storage such as batteries, and identifying other locations suitable for renewable energy installation. These initiatives could support Northern Ireland's renewable energy targets and open up opportunities in areas such as green fuel stations, hydrogen heating for homes and businesses and district heating schemes.
Read more here.