Project Overview
Due to the age of the sewerage network, there is an increasing need to carry out "rehabilitation" (repair and maintenance work) to ensure optimum service is delivered to customers. As part of the ongoing commitment to improving services to customers, NI Water has a long-term programme for the improvement of the existing sewerage network.
NI Water have an ongoing programme to undertake CCTV surveys of existing sewers to identify and prioritise parts of the sewerage system that require rehabilitation. We continually undertake repair and renovation of existing sewers, and replace sewers that collapse or are otherwise beyond their useful lifespan. Works on this major project are currently being delivered through a number of contracting partners, at various locations throughout Northern Ireland.
What will the work entail?
The work may involve the relaying, relining or repair of existing sewers. Wherever possible the work will be undertaken using specialist "no-dig" or "low-dig" methods, which minimise the amount of 'open' excavation required. This is to minimise disruption to the public, businesses and road users as much as possible. However, where these methods are not possible, work will be carried out by "traditional" open trench methods.
At some locations, the work may involve lane/road closures, which will be agreed with the Department of Infrastructure in advance. All appropriate signage will be in place to inform the public, and we will work closely with our contracting partners to ensure disruption is minimised as far as possible.
On occasions, due to the location and nature of the works it may be necessary to carry them out during the evening/night time hours. This may be to allow the works to be undertaken safely, protecting the safety of road users, the public and construction workers, or to reduce the impact on road users/businesses.
What benefits do these works provide?
When work is completed in a specific area, it will: -
Improve the condition of the system
Reduce the likelihood of sewer collapses and blockages
Reduce the associated likelihood of out-of-sewer flooding
Reduce long term disruption to customers and road users as a result of ongoing maintenance
Reduce long term maintenance costs
NI Water fully realises that work of this nature can be unavoidably disruptive, more so at some locations than others, particularly where temporary road closures and traffic diversions are required. In partnership with our Project Managers AECOM, contractors Geda Construction, we will work closely with the Department for Infrastructure and other key stakeholders to minimise inconvenience and disruption to local residents, businesses and road users as far as practicably possible.
In addition to the planned work programme, NI Water also have an ongoing programme of unplanned sewer rehabilitation works. This entails more reactionary type works, which are often emergency in nature and are also carried out throughout Northern Ireland. Due to the nature of these works, there may be a limited amount of notice for the public as they are often undertaken to prevent a sewer collapse or property flooding.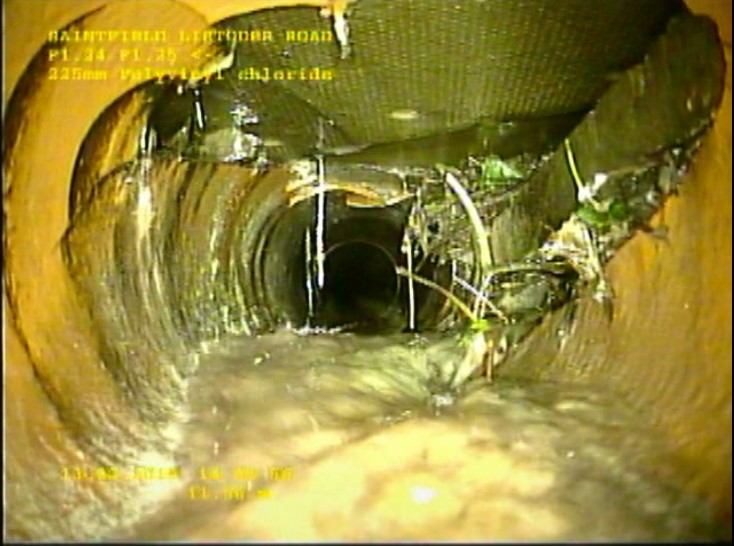 Existing sewer requiring emergency repair
Bag it and Bin it – Help us look after the upgraded sewers!
NI Water spends approximately £2.5 million a year on clearing blocked sewers. We would like to ask for the public's assistance in reducing these by not placing inappropriate items in the toilet, down a drain or into the sewers.
Find out more at https://www.niwater.com/bag-it-and-bin-it/