'Water'Way to Spend World Water Day
22 March 2010 9:04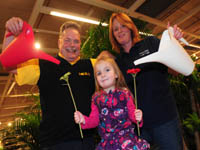 To celebrate World Water Day on March 22nd, Northern Ireland Water (NI Water) has teamed up with IKEA to remind shoppers that they are drinking, washing and using the best ever quality of water in Northern Ireland!
On the day, NI Water will be distributing water bottles to shoppers and encouraging them to embrace their quality drinking water by increasing their intake to 6-8 glasses each day.
Jane Jackson, NI Water's Environmental Education Manager said:
"This will be our second year celebrating World Water Day at IKEA Belfast and this year, we are celebrating achieving the best ever water quality in Northern Ireland! Shopping can be thirsty work and our water bottles are the perfect accessory!
"We will be on hand to advise customers how much water they should be drinking and shoppers will have the opportunity to enter our competition to win an annual pass to Silent Valley Mountain Park."
Nigel McGarry, Environment Specialist of IKEA Belfast, said:
"We are delighted to add IKEA's support to World Water Day and to welcome NI Water back this year. We feel it is important for our customers to receive this important health advice from NI Water and also have the chance to visit the beautiful Silent Valley Mountain Park."
For further information on water quality and Silent Valley, log onto www.niwater.com