CIPFA NI Award for NI Water
14 November 2016 12:06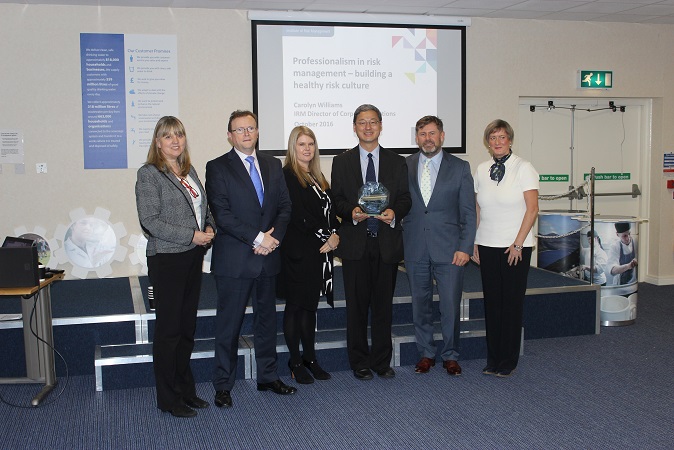 NI Water recently received the Award for Innovation, Improvement and Public Finance Best Practice at the CIPFA (Charted instituted of Public Finance and Accountancy) NI 2016 Annual Awards.
The award, which was in recognition of NI Water's innovative risk management approaches within the NI public sector, was based on the outcomes of ongoing collaboration with local Universities.
Sara Venning, CEO at NI Water comments,
"NI Water is responsible for the delivery of water and sewerage services to customers across Northern Ireland. NI Water's asset base is around £3 billion and the asset lives can extend beyond one hundred years, which requires long term strategic planning to manage risks and opportunities.
"Risk management has traditionally been dominated by risk aversion with less emphasis given to managing opportunities. The impact of climate change, ageing populations and technological developments are some of the factors driving organisations such as NI Water to take a different approach to risk management by thinking not only about mitigating these risks but also maximising their opportunities.
"The primary benefits from an opportunity risk management approach are evidenced in NI Water's 2015/16 Annual Report which reported increased efficiency, a £65m reduction in running costs since 2009/10; the highest ever levels of service and lower bills for our business customers."
Each year NI Water supports around ten masters level research projects on the water sector. The students are drawn from the business schools at Ulster University and Queen's University Belfast. The projects cover business strategy, business reporting and corporate governance and provide the students with a range of skills through researching best practice, presenting their findings and reports. The results of research are used to develop NI Water's approach and implement best practice. In this case the award was to recognise how NI Water implemented best practice to risk management.
ENDS
Photo caption - L to R: Carolyn Williams (Institute of Risk Management), Ronan Larkin (NI Water), Sara Venning (NI Water), George Ong (NI Water), Kingsley Donaldson (NI Water), and Edel O'Neill (University of Ulster)