NI Water Annual Report – Delivering What Matters
12 September 2017 0:01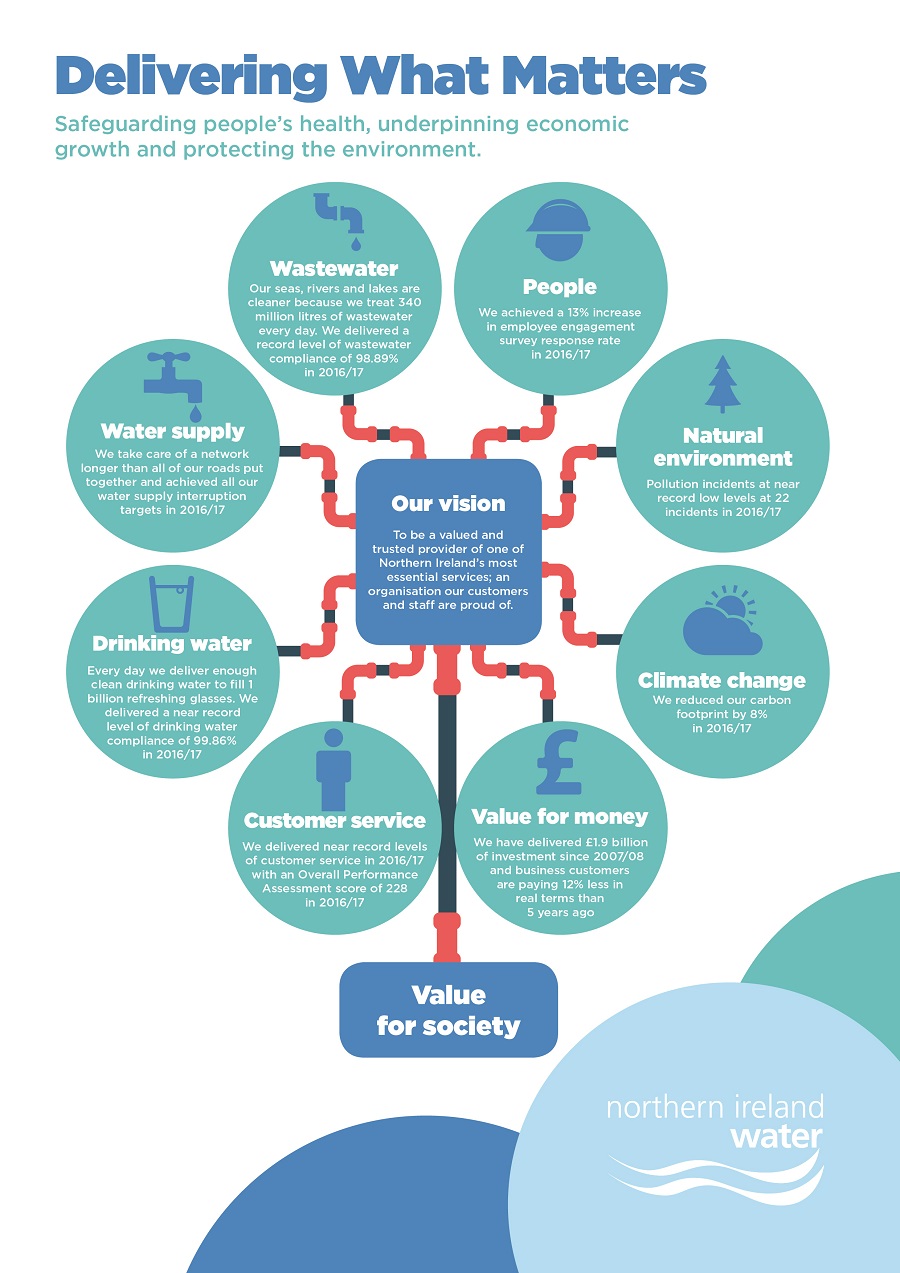 NI Water has published its annual report for 2016/17 detailing how it is 'Delivering What Matters' - safeguarding people's health, underpinning economic growth and protecting the environment.
NI Water CEO, Sara Venning comments:
"Recognising the important role NI Water plays in supporting health, safeguarding the environment and promoting a strong regional economy, I'm delighted to bring forward this report setting out another strong year of business performance.
"We have completed the second year of our six year business plan, a strong ambitious plan designed to bring services in Northern Ireland in line with best in class across the industry. We continue to deliver near record levels of customer service at a lower cost, whilst protecting the environment."
"Over the last decade, we have been leading the challenge on doing more for customers with fewer resources. We have transformed the delivery of water and wastewater services, delivering record levels of service for our customers and reaching levels of efficiency on par with some of the leading water companies in England and Wales."
The report coincides with the second year of a six year price control period. Among the many highlights were:
Delivery of near record levels of water quality compliance and record levels of wastewater compliance;

Launch of a new virtual Customer Service Centre to focus on resolving issues at first point of contact;

Continuing to keep bills affordable – taking into account inflation, our non-domestic customers are paying 12% less, on average, for their water and sewerage services than they did five years ago; and

Delivery of our investment programme which is pumping £2.5bn in to the local economy over 2015-2021.
Copies of the Annual Report can be obtained online at https://www.niwater.com/annual-report/
To provide a sense of scale, NI Water provides 570 million litres of fresh drinking water and takes away 340 million litres of wastewater, which it treats before returning to the environment. Thousands of assets, at a value approaching £3 billion, are operated and maintained to provide these services. This includes over 40,000 kilometres of water mains and sewers - one and half times longer than Northern Ireland's entire road network.
ENDS
For further information, please contact NI Water's Press Office on 02890 354710 or email press.office@niwater.com