'We must act now to protect water supplies' urges NI Water
14 June 2020 14:25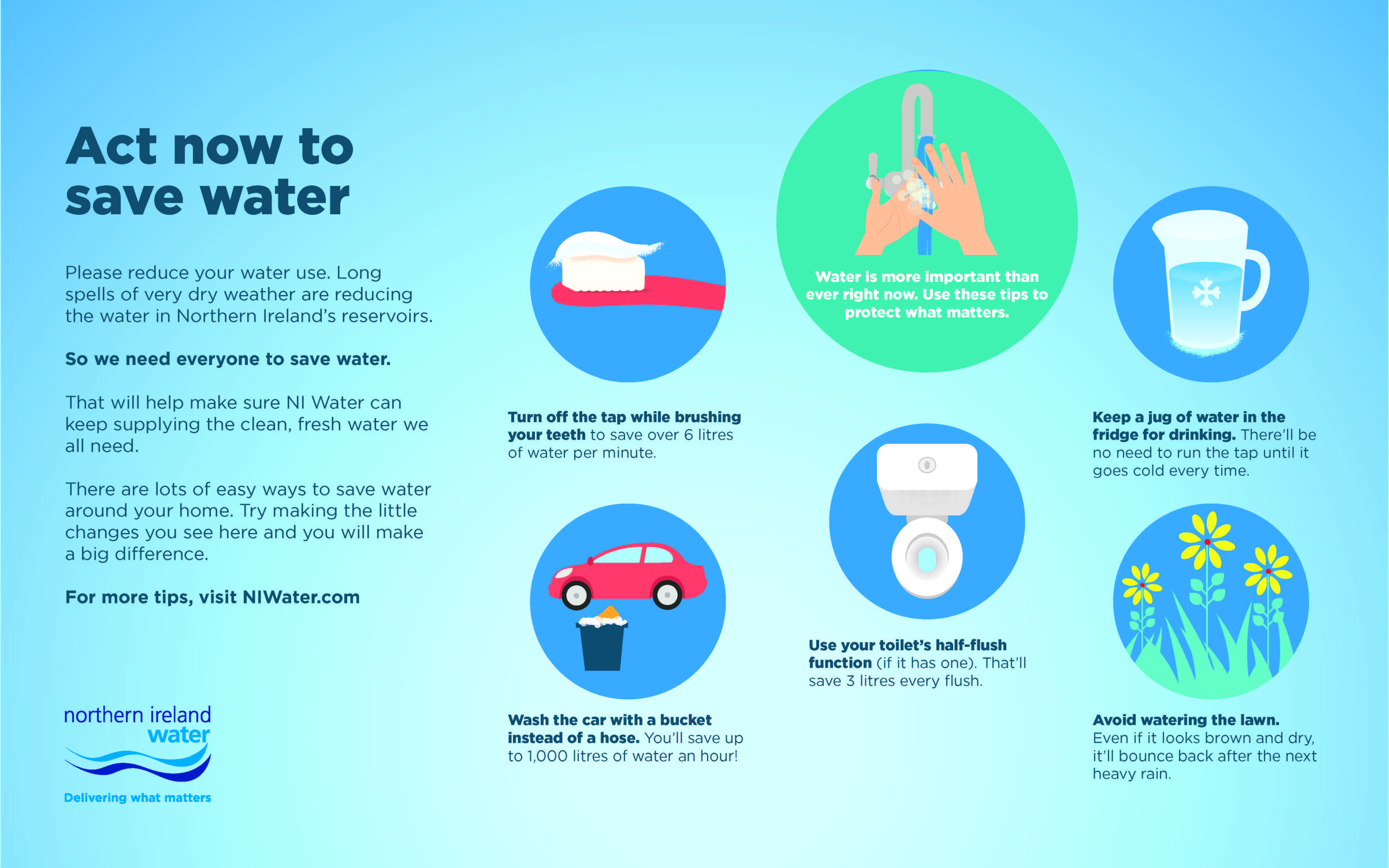 NI Water is issuing a direct appeal to the public to act now to protect water supplies, following confirmation from the Met Office that this spring was the second driest since the beginning of the twentieth century.
Since the beginning of lockdown, the company has seen a significant rise in the amount of water used in the home. This rise, coupled with the dry weather, has contributed to a natural drop in water levels in reservoirs.
Increased household use has not been offset by the closure of businesses, as many high water users, such as the agri-food sector, factories etc. have been able to stay operational during this time.
NI Water Chief Executive Sara Venning comments;
"This recent dry spell, which has been breaking records, coupled with more people at home using more water, has resulted in a significant drop in our water levels. The recent rain we have experienced is not enough to bring the levels back up. We would need a period of reasonably wet weather before we would see a significant change in the levels of most of our reservoirs.
"There are a number of steps NI Water can take to alleviate the stress on reservoirs including a hosepipe ban. However, the key to conserving water is public action now. How we all use our water now will have a massive impact on our water levels during the summer months and on whether a hosepipe ban will be required.
"For example, we know from the increase in our night usage some customers are leaving sprinklers and hoses on overnight; we are appealing to them to stop. A sprinkler left on overnight is enough to meet the daily water needs of 13 families. We are also asking people to think before they use their pressure washer. Could the task be put off until we are out of this dry period?
"However, the easiest way for everyone to save a little water and make a big difference is through normal household tasks. If each of us turned off the tap when brushing our teeth, in a month we would save enough water for the daily handwashing of 67 people.
"Similarly, if you put a jug of water into the fridge rather than running the tap, those actions alone would save approximately 18 litres per day. This is enough to keep 9 people hydrated for a whole day!
"We want everyone to enjoy their home and garden, we just need people to think about how they use their water and if what they are doing is essential. If it is not essential we would really appeal to people not do it at the moment."
For all our water saving tips please go to https://www.niwater.com/loweryourlitres
NI Water is encouraging customers to sign up to its free text alert service which keeps them updated about anything that may impact on their water supply or any of our other services in the area. Sign up here https://www.niwater.com/register-for-keeping-you-informed/
ENDS
For more information please contact press.office@niwater.com
As a society we need to place more value on water. Today we use around 70% more water than we did 40 years ago. Coupled with this is the impact of climate change with wetter winters and significantly drier summers predicted.
The impact of extreme weather patterns is not something we can allocate to future discussions, it is happening now. NI Water needs to prepare for how this will impact on future water supplies, however, everyone has the chance to change the way they think about and use water to ensure that our supplies are sustainable for future generations.
NI Water has recently published a Water Resource and Supply Resilience Plan. The new Plan, to 2045, is further evidence of the importance of adequate funding.
NI Water has identified an investment need in water and wastewater services of over £2bn for the six years from 2021 to 2027.