Leaky loo? Here's what you can do on World Plumbing Day!
10 March 2023 15:37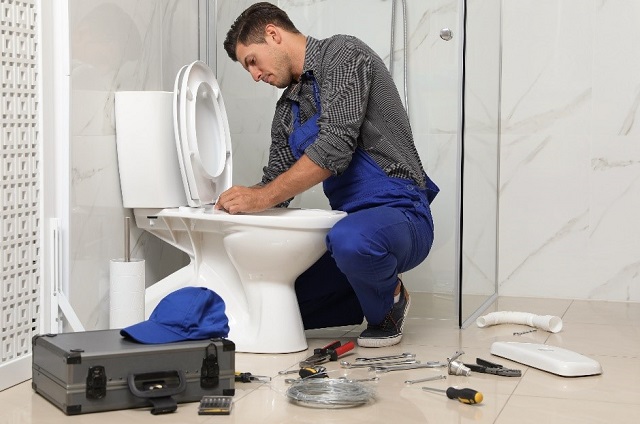 Did you know that a toilet which is constantly leaking clean water from the cistern into the pan can waste up to 400 litres of water a day? That's approximately five bath tubs, or enough water for up to seven loads of washing.
Leaky loos have become a more significant problem recently due to a number of factors; the change in design of toilets to dual flush, along with more households replacing their water systems to mains-fed bathrooms which increases water pressure.
Michael McGreevy, a senior manager with NI Water says: "One in 20 households have a leaky loo and yet they often go unnoticed. The leak could look minimal, and some people may even think this is a design feature to keep the toilet bowl fresh.
"The worst of leaking toilets can waste up to 8,000 litres a day – which is equivalent to 100 bath tubs! As we mark World Plumbing Day it's a good reminder to check if you have a leak and if you do, it's easy to repair."
It's easy to check if your loo is leaking. The water may run or drip down the back of the pan and into the toilet bowl, or you may hear your toilet re-filling randomly when you haven't used it for a while.
If you're not sure, wait 30 minutes after flushing, then run a piece of tissue around the back of the bowl. If it becomes wet this may indicate a leak. Other signs to look out for are dripping overflow pipes, located on an outside wall. If you're still not sure, NI Water provide free leaky loo strips for customers via www.getwaterfit.co.uk to test for a leaky loo.
The WaterSafe website www.watersafe.org.uk has a comprehensive list of qualified plumbers trained to work with your plumbing system and who are supported by NI Water and the drinking water regulators.
You can also read more about leaky loos on WaterSafe's website.
To help us make sure there is enough water to go around, we need to save it where we can, which is why it is so important to fix leaking toilets.
There are other things simple things you can do around the home to save water.
Tips for House:
Turn off the tap when brushing your teeth - A running tap can use 6 litres of water per minute.
Make full use of your washing machine - Half load programmes on washing machines use more than half the water and energy of a full load, so wait until the machine is full before switching it on.
Take shorter showers - Why not challenge yourself and your family to shower one minute quicker? In a year you could save up to 10,000 litres of water!
Take a shower instead of a bath - One bath can use up to 100 litres of water, whereas an efficient shower uses under 50 litres. But remember power showers can use more water than baths.
Car washing - Avoid washing cars and vans frequently, use a bucket and sponge
NI Water are encouraging customers to sign up to its free text alert service which keeps them updated about anything that may impact on their water supply or any of our other services in the area. Sign up here https://www.niwater.com/register-for-keeping-you-informed/
ENDS
For more information please contact press.office@niwater.com